15 Characteristics of Effective Pastors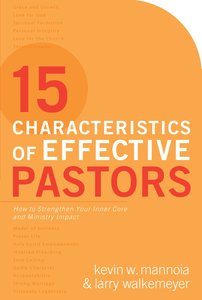 The church finds itself in a period of great diversification and multiple expressions. In the midst of great change, we have become confused about what really makes for healthy and authentic pastoral leadership. What are the basic and common characteristics necessary for pastors to be effective? How can lay people understand the pastoral call more fully and partner better with pastors for the health of their church? Here Mannoia and Walkemeyer examine the foundations of pastoral effectiveness and bring together nine experienced pastoral leaders to discuss the basic characteristics that exist in effective pastors. Regardless of context or personality, ineffectiveness in pastors and subsequent ill health in churches is often not the result of a lack of calling, but instead is the result of misappropriated efforts to find success. Let's help those who are called to be good stewards of their call. And let's help churches have a chance to be healthy under the leadership of effective pastors!

- Publisher
You May Also Be Interested In
About "15 Characteristics of Effective Pastors"
The church finds itself in a period of great diversification and multiple expressions. In the midst of great change, we have become confused about what really makes for healthy and authentic pastoral leadership. What are the basic and common characteristics necessary for pastors to be effective? How can lay people understand the pastoral call more fully and partner better with pastors for the health of their church? Here Mannoia and Walkemeyer examine the foundations of pastoral effectiveness and bring together nine experienced pastoral leaders to discuss the basic characteristics that exist in effective pastors. Regardless of context or personality, ineffectiveness in pastors and subsequent ill health in churches is often not the result of a lack of calling, but instead is the result of misappropriated efforts to find success. Let's help those who are called to be good stewards of their call. And let's help churches have a chance to be healthy under the leadership of effective pastors!
- Publisher


Meet the Authors
Kevin Mannoia
"KEVIN W. MANNOIA " has served in active ministry as a church planter, pastor and overseer of pastors since 1980.? Kevin has held responsibilities as superintendent and bishop of his denomination before assuming a national role as president of the National Association of Evangelicals.? His visionary leadership in forming next generation leaders was further focused while serving as Dean of Theology at Azusa Pacific University, where he currently serves as Faculty and Graduate Chaplain.? Having grown up overseas, Mannoia regularly teaches and preaches internationally.? He is an author, mentor, a
Larry Walkemeyer
"LARRY WALKEMEYER " has been in ministry for 28 years. For 15 years, Larry has been the lead pastor of Light & Life Christian Fellowship, a multi-ethnic church in Long Beach, California. Larry has been the visionary force in growing Light & Life and in starting or rebirthing 9 churches in the U.S. and 7 churches in Ethiopia. As an effective communicator and ministry practitioner, Larry has frequently spoken at pastoral conferences nationally and internationally. Larry was selected as one of the top 100 graduates in the 100-year history of Azusa Pacific University. "