2: 52 Big Bad Bible Giants (2 52 Bible Series)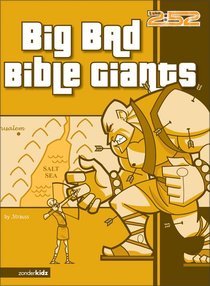 Teach boys how to conquer the giants in their own lives with this factual book all about giants in the Bible and more in the 252 series for boys. 'Excellent for Homeschool Use'
You May Also Be Interested In
About "2: 52 Big Bad Bible Giants (2 52 Bible Series)"
Teach boys how to conquer the giants in their own lives with this factual book all about giants in the Bible and more in the 252 series for boys. 'Excellent for Homeschool Use'
- Koorong

Fierce, hairy, oversized monsters! Could you face a guy like Goliath? Gather your courage and meet the big bad giants of the Bible. Were they really ten feet tall? Did they actually weigh nine hundred pounds? Were they really man-eaters? Find out in this book as you dodge blows from weapons so big, only giants could use them. It's action and adventure straight from the Bible! Part of the 2:52 collection?based on Luke 2:52?Big Bad Bible Giants will make your heart pound and help you become smarter, stronger, deeper, and cooler.
- Publisher


Meet the Author
Strauss (Ed)
By his early teen years, Ed Strauss was writing several novels at once. He had a dresser for his clothing, but Ed had different priorities. The bottom drawer held his comic books--mostly Spider-Man, Tarzan, and Turok. The middle drawer overflowed with his story notes, research, and maps. The top drawer was stuffed with clothing. On a nearby shelf was Ed's favorite reading material, an encyclopedia set he had won on a nationwide kiddie show.
Other Titles In The "2:52 Bible Series" Series View All