2: 52 Devotions to Make You Stronger (2 52 Bible Series)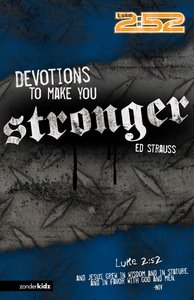 Devotions to Make You Stronger is a 90-day devotional book written specifically for boys ages 8- 12. As part of the 252 series for boys, its relevant messages are written in the humorous, gross style of the 2:52 Boy's Bible and the 2:52 books and are designed to ignite the interest of reluctant readers. Each reading begins with a Bible verse followed by an explanation and a paragraph relating the lesson to today's boys. The boys are then given tools to help them cope and inspire them to change t
You May Also Be Interested In
About "2: 52 Devotions to Make You Stronger (2 52 Bible Series)"
Devotions to Make You Stronger is a 90-day devotional book written specifically for boys ages 8- 12. As part of the 252 series for boys, its relevant messages are written in the humorous, gross style of the 2:52 Boy's Bible and the 2:52 books and are designed to ignite the interest of reluctant readers. Each reading begins with a Bible verse followed by an explanation and a paragraph relating the lesson to today's boys. The boys are then given tools to help them cope and inspire them to change t
- Koorong


How Does a Boy Grow Up Big and Strong? Devotions to Make You Stronger reveals the answer: by exploding the meaning of the Luke 2:52 phrase "Jesus grew in…stature." With humor, attitude, and downright gross-appeal, these devotions teach boys ages 8 to 12 how to team up with God so he can mold them into mighty men. Zeroing in on powerful people throughout the Bible-such as Moses, Samson, David, and Paul-this exciting 90-day devotional uncovers the secrets behind their stamina and strength. Its engaging style connects biblical principles to real life, inspiring boys to embrace attitudes and habits that lead to good health and proper physical development. These action-packed, intriguing devotions will keep boys turning the pages to discover how to become the strong men God designed them to be. Through imaginative and innovative products Zonderkidz is feeding your souls.
- Publisher
Meet the Author
Strauss (Ed)
By his early teen years, Ed Strauss was writing several novels at once. He had a dresser for his clothing, but Ed had different priorities. The bottom drawer held his comic books--mostly Spider-Man, Tarzan, and Turok. The middle drawer overflowed with his story notes, research, and maps. The top drawer was stuffed with clothing. On a nearby shelf was Ed's favorite reading material, an encyclopedia set he had won on a nationwide kiddie show.
Other Titles In The "2:52 Bible Series" Series View All