2:52 Soul Gear: Lintball Leo's Not-So-Stupid Questions About Your Body (For Boys Only) (2:52 Soul Gear Series)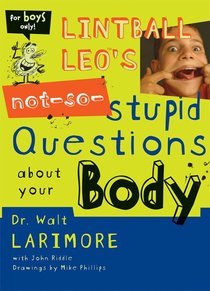 "Everything a boy should know, but won't ask!"Finally, everything you wanted to know about your body, but you've just been too chicken to ask. Lintball Leo's Not-So-Stupid Questions About Your Body is the first book for boys that gives honest answers to real questions about your body from a biblical perspective. No, you're not falling apart-you're just growing up! But there's no need to fear, when Lintball Leo is near. He's your personal guide to understanding your body. With information about everything from steroid use to body parts, there's not a question Lintball Leo hasn't heard. These aren't questions some adult made up, but they're real questions asked by real boys just like you. You want to know the truth? Now you can, because Lintball Leo's Not-So-Stupid Questions About Your Body gives you the facts-no holds barred!Through imaginative and innovative products, Zonderkidz is feeding young souls.

- Publisher
You May Also Be Interested In
About "2:52 Soul Gear: Lintball Leo's Not-So-Stupid Questions About Your Body (For Boys Only) (2:52 Soul Gear Series)"
"Everything a boy should know, but won't ask!"Finally, everything you wanted to know about your body, but you've just been too chicken to ask. Lintball Leo's Not-So-Stupid Questions About Your Body is the first book for boys that gives honest answers to real questions about your body from a biblical perspective. No, you're not falling apart-you're just growing up! But there's no need to fear, when Lintball Leo is near. He's your personal guide to understanding your body. With information about everything from steroid use to body parts, there's not a question Lintball Leo hasn't heard. These aren't questions some adult made up, but they're real questions asked by real boys just like you. You want to know the truth? Now you can, because Lintball Leo's Not-So-Stupid Questions About Your Body gives you the facts-no holds barred!Through imaginative and innovative products, Zonderkidz is feeding young souls.
- Publisher


Meet the Author
Walt Larimore
Dr. Walt Larimore has been a medical journalist since 1995. He hosted a nationally syndicated health news feature and has appeared on NBC's The Today Show; CBS Good Morning; CNN Headline News and PBS' Family Works. He practiced family medicine for over twenty years, served as a volunteer physician for the U.S. Olympic Committee, and has been named in Distinguished Physicians of America, Best Doctors in America, and Who's Who in Healthcare and Medicine. He has written or co-written a dozen books, including: Bryson City Tales, Alternative Medicine, 10 Essentials of Highly Healthy People, The Honeymoon Of Your Dreams and His Brain, Her Brain.