2 Corinthians (Interpretation Bible Study Series)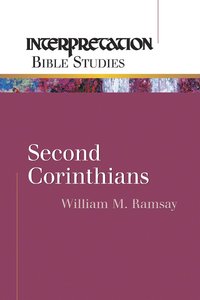 This accessible Bible study will help to explain some of the more challenging aspects of Second Corinthians, especially by focusing on what is delightful and inspiring about the biblical book. In Second Corinthians, we find promises of a glorious life after death, interesting and thought-provoking figures of speech describing followers of Christ, powerful stewardship messages, an amazing example of humility and proper respect, and much more. By the end of this study it will be easy to see why the folk at Corinth so loved and revered Paul that they collected this letter and others to save for future generations.Interpretation Bible Studies (IBS) offers solid biblical content in a creative study format. Forged in the tradition of the celebrated Interpretation commentary series, IBS makes the same depth of biblical insight available in a dynamic, flexible, and user-friendly resource. Designed for adults and older youth, IBS can be used in small groups, in church school classes, in large group presentations, or in personal study.

- Publisher
You May Also Be Interested In
About "2 Corinthians (Interpretation Bible Study Series)"
This accessible Bible study will help to explain some of the more challenging aspects of Second Corinthians, especially by focusing on what is delightful and inspiring about the biblical book. In Second Corinthians, we find promises of a glorious life after death, interesting and thought-provoking figures of speech describing followers of Christ, powerful stewardship messages, an amazing example of humility and proper respect, and much more. By the end of this study it will be easy to see why the folk at Corinth so loved and revered Paul that they collected this letter and others to save for future generations.Interpretation Bible Studies (IBS) offers solid biblical content in a creative study format. Forged in the tradition of the celebrated Interpretation commentary series, IBS makes the same depth of biblical insight available in a dynamic, flexible, and user-friendly resource. Designed for adults and older youth, IBS can be used in small groups, in church school classes, in large group presentations, or in personal study.
- Publisher


Meet the Author
William M Ramsay
Sir William M. Ramsay (1851-1939) served as the first professor of classical art and archaeology at Oxford University. At the turn of the century, he engaged in extensive exploration of the antiquities of Turkey and contributed to the study of classical archaeology, geography, and New Testament studies. He is the author of many books, including historical commentaries on Galatians, First Corinthians, and the Pastoral Epistles.
Other Titles In The "Interpretation Bible Study" Series View All
$23.99




Available 0 Available. Expected to ship in 1 week from Australia.

Formats