3 Decisiones Que Toman Las Personas Exitosas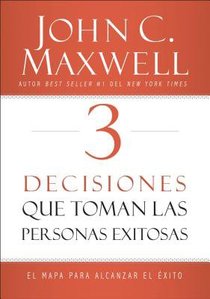 :Durante casi tres d cadas, John C. Maxwell ha estado entre las autoridades del xito y liderazgo m s solicitadas y respetadas. Este compendio de su best seller Your Roadmap for Success se enfoca en las tres cosas que crean una f rmula para el xito.Pero existe algo que hay que ajustar: el modo en que vemos el xito.Este no es un libro sobre personas exitosas; es un libro para personas exitosas, especialmente quienes no entiendan que ya est n en el camino hacia el xito. Todos tienen el potencial de llegar a ser un xito hoy. John Maxwell revela los tres puntos esenciales para lograrlo.Usted puede llegar a ser un xito hoy.El xito es un viaje. Si sabe hacia d nde va y c mo llegar a ese lugar, va a alcanzar su destino. De hecho, ya lo ha alcanzado.La mentalidad m s satisfactoria y transformadora que una persona puede adoptar es que el xito est en el viaje. Cuando entiende que el proceso diario es lo que hace que sus metas sean reales, no s lo acaba de cambiar el plan del xito? usted mismo ya ha llegado a ser un xito.Este libro le ense ar lo que significa estar en el viaje hacia el xito, le ayudar a descubrir su mapa personal y le equipar con lo que necesitar para cambiar de curso y para seguir creciendo. El camino al xito le est esperando; es probable que usted ya est en l.

- Publisher
You May Also Be Interested In
About "3 Decisiones Que Toman Las Personas Exitosas"
:Durante casi tres d cadas, John C. Maxwell ha estado entre las autoridades del xito y liderazgo m s solicitadas y respetadas. Este compendio de su best seller Your Roadmap for Success se enfoca en las tres cosas que crean una f rmula para el xito.Pero existe algo que hay que ajustar: el modo en que vemos el xito.Este no es un libro sobre personas exitosas; es un libro para personas exitosas, especialmente quienes no entiendan que ya est n en el camino hacia el xito. Todos tienen el potencial de llegar a ser un xito hoy. John Maxwell revela los tres puntos esenciales para lograrlo.Usted puede llegar a ser un xito hoy.El xito es un viaje. Si sabe hacia d nde va y c mo llegar a ese lugar, va a alcanzar su destino. De hecho, ya lo ha alcanzado.La mentalidad m s satisfactoria y transformadora que una persona puede adoptar es que el xito est en el viaje. Cuando entiende que el proceso diario es lo que hace que sus metas sean reales, no s lo acaba de cambiar el plan del xito? usted mismo ya ha llegado a ser un xito.Este libro le ense ar lo que significa estar en el viaje hacia el xito, le ayudar a descubrir su mapa personal y le equipar con lo que necesitar para cambiar de curso y para seguir creciendo. El camino al xito le est esperando; es probable que usted ya est en l.
- Publisher


Meet the Author
John C Maxwell
John C. Maxwell is an internationally recognized leadership expert, speaker, and author who has sold over 13 million books. His organizations have trained more than 2 million leaders worldwide. Dr. Maxwell is the founder of Injoy Stewardship Services and EQUIP. Every year he speaks to Fortune 500 companies, international government leaders, and organizations as diverse as the United States Military Academy at West Point and the National Football League. A New York Times, Wall Street Journal, and Business Week best-selling author, Maxwell was one of 25 authors and artists named to Amazon.com's 10th Anniversary Hall of Fame. Three of his books, The 21 Irrefutable Laws of Leadership, Developing the Leader Within You and The 21 Indispensable Qualities of a Leader have each sold over a million copies. - Publisher.