30 Daily Appointments With Heaven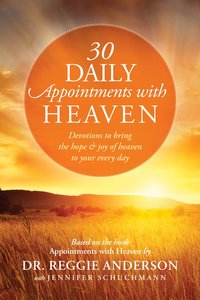 When a patient first asked Dr. Reggie Anderson to sit at her bedside as she passed from this life, something miraculous happened. As he held her hand, the veil between this world and the next parted ... and he received an astonishing glimpse of what awaits us in heaven. Little did he know this was just a foretaste of what was to come? a lifetime of God-given ?appointments with heaven.?

In this 30-day devotional based on his new book Appointments with Heaven, Reggie shares remarkable stories from the Bible and his life, showing us how we can face life's heaviest burdens with courage and confidence, live without fear, and experience God's miracles in our own lives. Soul-stirring and hope-filled, 30 Daily Appointments with Heaven will bring the joy and peace of heaven to your life today.

- Publisher
You May Also Be Interested In
About "30 Daily Appointments With Heaven"
When a patient first asked Dr. Reggie Anderson to sit at her bedside as she passed from this life, something miraculous happened. As he held her hand, the veil between this world and the next parted ... and he received an astonishing glimpse of what awaits us in heaven. Little did he know this was just a foretaste of what was to come? a lifetime of God-given ?appointments with heaven.?

In this 30-day devotional based on his new book Appointments with Heaven, Reggie shares remarkable stories from the Bible and his life, showing us how we can face life's heaviest burdens with courage and confidence, live without fear, and experience God's miracles in our own lives. Soul-stirring and hope-filled, 30 Daily Appointments with Heaven will bring the joy and peace of heaven to your life today.
- Publisher


Meet the Authors
Reggie Anderson
Dr. Reggie Anderson has practiced family medicine for over 25 years and was recently awarded the Frist Humanitarian Award by the Centennial Medical Center in Nashville. A graduate of the University of Alabama Medical School, Reggie is a physician with the Frist Clinic. He also serves as Chief of Staff of TriStar Ashland City Medical Center, as well as medical director of three nursing homes. Reggie and his wife Karen have four adult children and reside on a farm in Kingston Springs. A
Jennifer Schuchmann
Jennifer Schuchmann is an accomplished writer, trainer, and speaker noted for creative and practical approaches to business and spiritual topics. The author of Your Unforgettable Life, Nine Ways God Always Speaks and Six Prayers God Always Answers.
Jennifer has also written for Today's Christian, The Christian Communicator, and Atlanta magazine. She is active in her church, Johnson Ferry Baptist, where she founded and co-teaches a Sunday morning Bible study called "Breakfast and a Movie." She is married to David, and they have a twelve-year-old son, Jordan, who is proof that God answers prayer