30 Days to a More Dynamic Prayer Life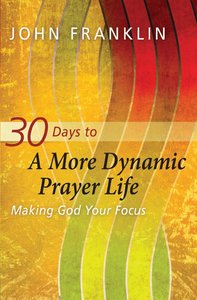 God created prayer as a personal, intimate way for us to connect to, talk to, and listen to Him. But how many times have you felt like the prayer culture at your church is inconsistent at best? This thirty-day leaders resource ties solid biblical teaching with practical ways on how to make prayer a lifestyle habit. Author and pastor John Franklin will equip and challenge your church not only to develop an enjoyable prayer life but also to help you get to know your Heavenly Father better.
Includes basics on
Focusing on God
Responding from the heart
Seeking His kingdom
- Publisher
You May Also Be Interested In
About "30 Days to a More Dynamic Prayer Life"
God created prayer as a personal, intimate way for us to connect to, talk to, and listen to Him. But how many times have you felt like the prayer culture at your church is inconsistent at best? This thirty-day leaders resource ties solid biblical teaching with practical ways on how to make prayer a lifestyle habit. Author and pastor John Franklin will equip and challenge your church not only to develop an enjoyable prayer life but also to help you get to know your Heavenly Father better.

Includes basics on
Focusing on God
Responding from the heart
Seeking His kingdom
- Publisher
Meet the Author
John Franklin
"John Franklin is a pastor and a nationally known speaker in the area of prayer and spiritual awakening. He is the author of And the Place Was Shaken: How to Lead a Powerful Prayer Meeting " coauthor of By Faith: Living in the Reality of God " and Spiritual Warfare: Biblical Truth for Victory " compiler of A House of Prayer: Prayer Ministries in Your Church " and contributor to numerous books and articles. " "He founded John Franklin Ministries to resource churches in prayer and spiritual awakening and has served as prayer specialist for LifeWay Christian Resources and the minister of prayer a