30 Days to a New You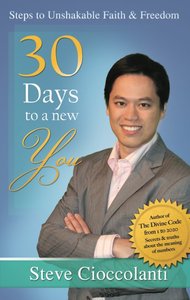 Do you want to improve the quality of your life? Take the challenge of '30 days to a new YOU!'

This personal development book is not about copying what someone else did. When God wants to revolutionize your life, He starts by changing how you see yourself. Discover:
- why some people live with a free spirit, and others seem stuck year after year
- how to be free from emotional baggage and addictions like substance abuse and porn
- how to be a better lover
- what is the crucial step people often miss on their way to reaching their goals

Steve Cioccolanti is a trusted name in life-skills mentoring and has given people strategies to succeed in the corporate world, relationships and church life. In this honest guide, you have a backstage pass to how he personally became free from a spirit of rejection, addictions, and other limitations. You will also learn the exact steps he took to grow spiritually and how to apply them. By following this 30 day plan, you will experience freedom and victory in areas of previous hardship and failure. Take the challenge of '30 days to a new YOU!'

WHAT READERS ARE SAYING

' My relationship with colleagues broke down because of my lack of confidence and fear of failure deep inside...I now speak with my colleagues in confidence and forgave those words they used to hurt me...' ~ Shelley, Australia

'...Your book gave me the stability I needed as a Christian that I was missing before... I've read many Christian books on faith and miracles, but...this was the first time I...felt like a complete breakthrough...' ~ Josephine, Singapore

"All you said about your father, smoking and poor self-image are the things that are happening in my life. I've been following your plan for 2 months. Now my dad and I are close to each other. I don't have to worry about anything any more because I have Jesus in my life."

~ Michelle, Mauritius
You May Also Be Interested In
About "30 Days to a New You"
Do you want to improve the quality of your life? Take the challenge of '30 days to a new YOU!'

This personal development book is not about copying what someone else did. When God wants to revolutionize your life, He starts by changing how you see yourself. Discover:
- why some people live with a free spirit, and others seem stuck year after year
- how to be free from emotional baggage and addictions like substance abuse and porn
- how to be a better lover
- what is the crucial step people often miss on their way to reaching their goals

Steve Cioccolanti is a trusted name in life-skills mentoring and has given people strategies to succeed in the corporate world, relationships and church life. In this honest guide, you have a backstage pass to how he personally became free from a spirit of rejection, addictions, and other limitations. You will also learn the exact steps he took to grow spiritually and how to apply them. By following this 30 day plan, you will experience freedom and victory in areas of previous hardship and failure. Take the challenge of '30 days to a new YOU!'

WHAT READERS ARE SAYING

' My relationship with colleagues broke down because of my lack of confidence and fear of failure deep inside...I now speak with my colleagues in confidence and forgave those words they used to hurt me...' ~ Shelley, Australia

'...Your book gave me the stability I needed as a Christian that I was missing before... I've read many Christian books on faith and miracles, but...this was the first time I...felt like a complete breakthrough...' ~ Josephine, Singapore

"All you said about your father, smoking and poor self-image are the things that are happening in my life. I've been following your plan for 2 months. Now my dad and I are close to each other. I don't have to worry about anything any more because I have Jesus in my life."

~ Michelle, Mauritius
- Koorong


Meet the Author
Steve Cioccolanti
Steve Cioccolanti, BA, M.Ed., is a Christian author (new release "The Divine Code from 1 to 2020: Numbers, Their Meanings and Patterns," bestseller "From Buddha to Jesus: An Insider's View of Buddhism and Christianity"), a prolific teacher of God's Word and pastor of an international church in Melbourne, Australia. His program airs on cable TV to 4 million viewers each week throughout Indonesia. Born in Thailand to a family of Buddhists, Catholics, Methodists, and Muslims, Steve has a unique perspective on evangelism, missions, and world religions. Having traveled to more than 35 countries as a Christian speaker, he has ministered in local churches, leadership seminars, missionary conferences, Bible schools and on TV and radio.