30 Days to Understanding the Bible in 15 Minutes a Day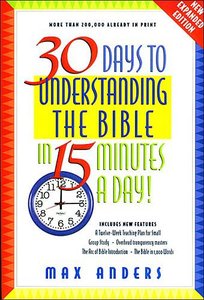 An outstanding resource that's brought the Bible's message home to thousands---and in one month, it'll do the same for you! Featuring 30 easy-to-follow 15-minute lessons, it offers an overview of the Bible, and covers every major era of biblical history. A 12-week teaching plan---complete with overhead transparency masters---makes this ideal for small groups, too.

- Publisher
You May Also Be Interested In
About "30 Days to Understanding the Bible in 15 Minutes a Day"
An outstanding resource that's brought the Bible's message home to thousands---and in one month, it'll do the same for you! Featuring 30 easy-to-follow 15-minute lessons, it offers an overview of the Bible, and covers every major era of biblical history. A 12-week teaching plan---complete with overhead transparency masters---makes this ideal for small groups, too.
- Publisher


Meet the Author
Max Anders
Max Anders (Th.M. Dallas, Th.D. Western Seminary) is the Senior Pastor of Castleview Baptist Church. Dr. Anders is the author of 22 books, including the best-selling 30 Days to Understanding the Bible, and a ten-volume series entitled What You Need to Know About. In addition, he is the original developer and general editor of The Holman New Testament Commentary and has contributed to volumes on 1 Kings, Proverbs, and Galatians to Colossians. A former college professor and adjunct seminary professor, as well as instructor with Walk Thru the Bible Ministries, he is listed in Who's Who in the Midwest.