30 Meditations on Healing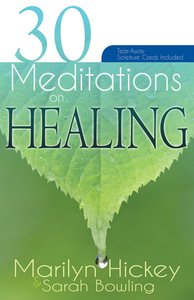 "This book of the law shall not depart out of your mouth, but you shall meditate on it day and night, that you may be careful to do according to all that is written in it: for then you shall make your way prosperous, and then you shall have good success." Joshua 1:8 (RSV). Marilyn Hickey and Sarah Bowling present 30 meditations on God's Word that will change your life. One of the names of God is Jehovah Rapha, which means "the Lord our Healer" or "the Lord our health." Healing is part of God's nature and a central feature of the atonement. Jesus Christ is our double cure--;removing both our sin and our sickness. We are healed by His stripes. God's healing is powerful and readily available to affect all aspects of our lives. "Then your light shall break forth like the morning, Your healing shall spring forth speedily." Isaiah 58:8.

- Publisher
You May Also Be Interested In
About "30 Meditations on Healing"
"This book of the law shall not depart out of your mouth, but you shall meditate on it day and night, that you may be careful to do according to all that is written in it: for then you shall make your way prosperous, and then you shall have good success." Joshua 1:8 (RSV). Marilyn Hickey and Sarah Bowling present 30 meditations on God's Word that will change your life. One of the names of God is Jehovah Rapha, which means "the Lord our Healer" or "the Lord our health." Healing is part of God's nature and a central feature of the atonement. Jesus Christ is our double cure--;removing both our sin and our sickness. We are healed by His stripes. God's healing is powerful and readily available to affect all aspects of our lives. "Then your light shall break forth like the morning, Your healing shall spring forth speedily." Isaiah 58:8.
- Publisher


Meet the Author
Marilyn Hickey
Marilyn Hickey is no stranger to impacting the lives of millions worldwide. As founder and president of Marilyn Hickey Ministries, Mariyn is being used by God to help "cover the earth with the Word." Her mission has been effectively accomplished through various avenues of ministry such as partnering with other ministries to ship thousands of Bibles into Communist countries; holding crusades in places like Ethiopia, the Philippines, Korea, Haiti, Brazil, Malaysia, Japan, and Honduras; and reaching individuals worldwide through television broadcasts seen on networks such as Black Entertainment Network (BET) and Trinity Broadcasting Network (TBN).
In addition, Marilyn Hickey Ministries has established a fully accredited 2-year Bible college to raise up Christian leaders to carry out Gods mission. Marilyn also serves the body of Christ as the Chairman of the Board of Regents for Oral Roberts University, and is the only woman serving on the Board of Directors for Dr. Davie Yonggi Cho (pastor of the world's largest congregation, Yoido Full Gospel Church).
In addition to her ministry, Marilyn is also a busy wife and mother of two grown children. She is married to Wallace Hickey, pastor of Orchard Road Christian Center in Greenwood Village, Colorado. Visit the author's website at: www.mhmin.org..