365 Days With Spurgeon (Vol 1)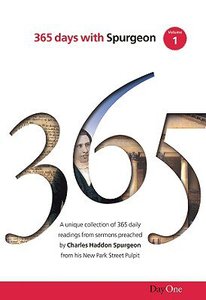 This excellent book will help if you are looking for something more challenging in your daily readings. From the archive of the young Charles Haddon Spurgeon's Park Street sermons (long before his well-known days at London's more famous Metropolitan Tabernacle) we have true pearls of biblical wisdom. What is particularly striking when reading these extracts is how appropriate they are to the ears of the modern Christian in need of genuine spiritual insight. Both versions have sewn binding and will offer years of service. An ideal gift.
- Publisher.
You May Also Be Interested In
About "365 Days With Spurgeon (Vol 1)"
This excellent book will help if you are looking for something more challenging in your daily readings. From the archive of the young Charles Haddon Spurgeon's Park Street sermons (long before his well-known days at London's more famous Metropolitan Tabernacle) we have true pearls of biblical wisdom. What is particularly striking when reading these extracts is how appropriate they are to the ears of the modern Christian in need of genuine spiritual insight. Both versions have sewn binding and will offer years of service. An ideal gift.
- Publisher.
- Koorong

384 Pages
- Publisher

A book of 365 daily devotional taken from Charles Haddon Spurgeon's earlier sermons from his New Park Street Pulpit. These have been carefully selected. Because Spurgeon treated every occasion as a unique opportunity for evangelism an outstanding feature of these extracts is the diversity of the subjects covered and their relevance to contemporary Christians.
- Publisher

If your daily reading notes have become rather overfamiliar and tired, and you are looking for something more challenging, this excellent volume may really help. Here, from the archive of the young Charles Haddon Spurgeon's Park Street sermons (long before his well-known days at London's more famous Metropolitan Tabernacle) we have pearls of Biblical wisdom indeed. What is particularly striking when reading these extracts is how incredibly appropriate they are to the ears of the modern Christian in need of genuine spiritual understanding. 365 Days With Spurgeon is available in either Hardback or Paperback versions. Both have sewn binding and will offer years of service. An ideal gift.
- Publisher