365 Pocket Evening Prayers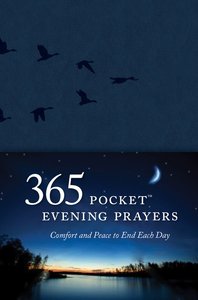 Daily life brings worries-about tasks undone, strained relationships, health problems, financial difficulties, and other things that consume your thoughts. 365 Pocket Evening Prayers will help you relax and rest in God, trusting that he will provide for you now and tomorrow. Following in the footsteps of the popular 365 Pocket Prayers that has touched so many lives, here is an edition just for evening prayer time. There's a topical index in the back of the book, so whether you need to pray about conflict, financial matters, health and healing, your family, or a recent disappointment you've experienced, 365 Pocket Evening Prayers helps you open your heart to the one who listens. Each reading in this convenient, easy-to-carry, quick-access guide begins with a daily prayer and ends with a promise from Scripture.

- Publisher
You May Also Be Interested In
About "365 Pocket Evening Prayers"
Daily life brings worries-about tasks undone, strained relationships, health problems, financial difficulties, and other things that consume your thoughts. 365 Pocket Evening Prayers will help you relax and rest in God, trusting that he will provide for you now and tomorrow. Following in the footsteps of the popular 365 Pocket Prayers that has touched so many lives, here is an edition just for evening prayer time. There's a topical index in the back of the book, so whether you need to pray about conflict, financial matters, health and healing, your family, or a recent disappointment you've experienced, 365 Pocket Evening Prayers helps you open your heart to the one who listens. Each reading in this convenient, easy-to-carry, quick-access guide begins with a daily prayer and ends with a promise from Scripture.
- Publisher


Meet the Author
David Veerman
Dave Veerman worked for 26 years with Youth for Christ. He has authored more than 60 books including Youth Evangelism; Dave's Complete Guide to Junior High Ministry; Small Group Ministry with Youth; Tough Parents for Tough Times; and Letting Them Go.
He was a senior editor of the Life Application Study Bible and was the senior editor of the Student Life Application Study Bible. He is also on the Understanding Your Teenager teaching team. Dave is a founding partner in The Livingstone Corporation, a company that serves Bible publishers by creating, developing, and producing Bible-related product