3in1: Sins of the Past - a Romantic Suspense Novella Collection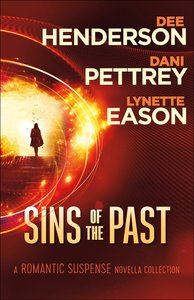 :Three Novellas from Bestselling Authors

In Dee Henderson's "Missing," a Wyoming sheriff is called to Chicago when his elderly mother goes missing. Paired with a savvy Chicago cop, the two realize her disappearance is no accident, and a race against the clock begins.

Dani Pettrey returns to Alaska with "Shadowed," introducing readers to the parents of her beloved McKenna clan. Adventure, romance, and danger collide when a young fisherman nets the body of an open-water swimming competitor who may actually be a possible Russian defector.

Lynette Eason's "Blackout" delivers the story of a woman once implicated in a robbery gone wrong. The loot has never been found--but her memory of that night has always been unreliable. Can she remember enough to find her way to safety when the true culprit comes after her?

- Publisher
You May Also Be Interested In
About "3in1: Sins of the Past - a Romantic Suspense Novella Collection"
:Three Novellas from Bestselling Authors

In Dee Henderson's "Missing," a Wyoming sheriff is called to Chicago when his elderly mother goes missing. Paired with a savvy Chicago cop, the two realize her disappearance is no accident, and a race against the clock begins.

Dani Pettrey returns to Alaska with "Shadowed," introducing readers to the parents of her beloved McKenna clan. Adventure, romance, and danger collide when a young fisherman nets the body of an open-water swimming competitor who may actually be a possible Russian defector.

Lynette Eason's "Blackout" delivers the story of a woman once implicated in a robbery gone wrong. The loot has never been found--but her memory of that night has always been unreliable. Can she remember enough to find her way to safety when the true culprit comes after her?
- Publisher


Meet the Authors
Dee Henderson
Pastor's daughter Dee Henderson is a lifelong resident of Illinois, USA, and currently resides in Springfield. She believes that marketing books should be about the stories rather than the writer, so she keeps a low profile compared to many authors. Her background is in mathematics and computing science (B.Sc 1988) and she had a high paying job as an engineer before she moved into full-time writing in 1996. Her technical expertise has given her an unusually keen insight into the structural aspects of storytelling. The results are plain to see; since 1999, Dee has produced two bestselling fiction series - the acclaimed O'Malley series and Uncommon Heroes - as well as eleven stand-alone titles.

Dee's books brilliantly mix suspense and romance, and her characters undergo varied and interesting faith journeys that are integrated skillfully into the storylines. Dee's work has won or been nominated for several prestigious industry awards including the RWA's RITA Award, the Christy Award, the ECPA Gold Medallion, the Holt Medallion, the National Readers' Choice Award, and the Golden Quill.
Dani Pettrey
Dani Pettrey is a wife, homeschooling mom, and author. She feels blessed to write inspirational romantic suspense because it incorporates so many things she loves--the thrill of adventure, nail biting suspense, the deepening of her characters' faith, and plenty of romance. She and her husband reside in Maryland with their two teenage daughters. Visit her website at www.danipettrey.com. A
Lynette Eason
Lynette Eason grew up in Greenville, SC and now lives in Spartanburg, SC. She is married and has two precious children, Lauryn and Will. Lynette is a full time writer. Lynette enjoys visits to the mountains, hanging out with family and brainstorming stories with her fellow writers. She gives God the glory for her giving her the talent and desire to spin stories that bring readers to the edge of their seat and to the throne of Christ.
Customer Reviews For "3in1: Sins of the Past - a Romantic Suspense Novella Collection"
Write Your Own Review
Three Great Authors
By Kimberley,

Jan 07 2017
Three fantastic authors come together with three great novellas. If you aren't sure if you will like these authors this is a great way to find out. Three suspense novellas that draw you right into the action and you won't want to put this book down.
---
Not bad
By Harsh,

Jul 14 2016
All three authors are great and write good books. This was a good book if you want to get a taste of each authors writing style, and to try them each out. However, I wouldn't recommend this book to those who are already avid readers of these authors because its more of a let down as you don't get a fully fledge story line and they struggle with the short story style. 
---
Enjoyable
By Briana,

Jul 14 2016
This was a good book to read. I waited ages for it to come out and while I did enjoy the collection of short stories I was also left a bit disappointed. Dee Henderson spent most of her book building up to the climax and writing a great introduction and then the conclusion was messily done in a few short pages. So I would recommend that if you want to try Dee Henderson books, then truly by one of her novels, because this isn't a great representation of her writing abilities. 
---
Great
By Trudy,

Jul 14 2016
I love these authors and putting them all together in one book was an awesome idea! i loved the mini stories and the characters that were introduced. The introduction to the McKenna family was awesome and made you love the mckenna series even more! 
Lynette brought you down the path of painful memories and the importance of facing the past so that you can move forward with what life will bring to you! 

Great stories and worth the read! 
---
Disappointing
By sarah,

Jun 26 2016
I picked this book collection, looking forward to reading from authors I have enjoyed previously. Unfortunately although the premise of each novel is unique, none could hold my interest for long. I became quickly bored with the book and couldn't finish it. I think the stories would have been best if developed from novellas into full length novels. The ideas were great, but the exeution of each was lacking.There was a serious lack of plot development and character growth to make me put this collection down before finishing the books. I would choose other books from these authors to read instead. 
{{review.title}}
By {{review.author.name}},

{{review.reviewCreatedDate | date:'MMM dd yyyy'}}

{{reviewdescription}}
{{review.text}}
---