40 Days of Prayer and Fasting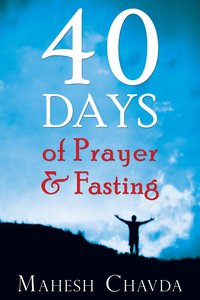 40 Days of Prayer and Fasting is a devotional companion for The Hidden Power of Prayer and Fasting or can be used as a stand-alone inspirational devotional.

- Publisher This is an awesome devotional. It will guide you through the most solemn and powerful times with the Lord. 40 Days of Prayer and Fasting gives you the tools and the help you need to unlock the Holy Spirit within you-even though you may be facing a physical, financial, or family crisis. Author Mahesh Chavda has victoriously lived through these many serious challenges in his life only to see the power of God win every battle. His lifestyle of prayer and fasting will inspire you to fight the good fight because he knows that God has already given you the solution. You can bring His glory into your life, your church, your city, and your nation through the hidden power of prayer and fasting. Book jacket.

- Publisher
You May Also Be Interested In
About "40 Days of Prayer and Fasting"
40 Days of Prayer and Fasting is a devotional companion for The Hidden Power of Prayer and Fasting or can be used as a stand-alone inspirational devotional.
- Publisher

This is an awesome devotional. It will guide you through the most solemn and powerful times with the Lord. 40 Days of Prayer and Fasting gives you the tools and the help you need to unlock the Holy Spirit within you-even though you may be facing a physical, financial, or family crisis. Author Mahesh Chavda has victoriously lived through these many serious challenges in his life only to see the power of God win every battle. His lifestyle of prayer and fasting will inspire you to fight the good fight because he knows that God has already given you the solution. You can bring His glory into your life, your church, your city, and your nation through the hidden power of prayer and fasting. Book jacket.
- Publisher


Meet the Author
Mahesh Chavda
Mahesh Chavda grew up in Mombasa, Kenya, the son of a prominent Hindu teacher. At age sixteen he had a dramatic encounter with Christ and committed his heart to Jesus. Bonnie Chavda is executive director of Mahesh Chavda Ministries International. She has served with her evangelist husband in global mission work since 1980. Together they have written numerous bestsellers, including Only Love Can Make a Miracle; Make Room for Your Miracle: Releasing Resurrection Power in Your Life; Storm Warrior: A Believer's Strategy for Victory and have led more than 750,000 people to Christ around the world. Mahesh and Bonnie are cofounders and senior pastors of All Nations Church in Charlotte, North Carolina.