4in1: A Match Made in Texas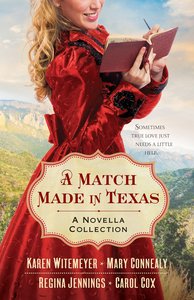 There's a secret matchmaker at work in frontier Texas!

In the small town of Dry Gulch, Texas, a good-hearted busybody just can't keep herself from surreptitiously trying to match up women in dire straits with men of good character she hopes can help them. How is she to know she's also giving each couple a little nudge toward love?

A Cowboy Unmatched
Neill isn't sure who hired him to repair Clara's roof--he only knows Clara desperately needs his help. Can he convince this stubborn widow to let down her guard and take another chance on love?

An Unforeseen Match
Hoping to earn an honest wage on his way to the land rush, Clayton ends up on Grace's doorstep, lured by a classified ad. He may have signed on for more than he expected though--and he may have found the one woman who can keep him from moving on.

No Match for Love
Andrew can't fathom how refined Lucy ended up as the caretaker to his dotty aunt, and somehow her arrival has prompted even more bizarre occurrences around the ranch. When they join forces to unearth the truth, will the attraction between Andrew and Lucy develop into more?

Meeting Her Match
When the tables are turned and a tenderhearted meddler becomes the beneficiary of a matchmaking scheme, her world is turned upside down. As her entire life changes, will she finally be able to tell the banker's son how much she cares for him?

- Publisher
You May Also Be Interested In
About "4in1: A Match Made in Texas"
There's a secret matchmaker at work in frontier Texas!

In the small town of Dry Gulch, Texas, a good-hearted busybody just can't keep herself from surreptitiously trying to match up women in dire straits with men of good character she hopes can help them. How is she to know she's also giving each couple a little nudge toward love?

A Cowboy Unmatched
Neill isn't sure who hired him to repair Clara's roof--he only knows Clara desperately needs his help. Can he convince this stubborn widow to let down her guard and take another chance on love?

An Unforeseen Match
Hoping to earn an honest wage on his way to the land rush, Clayton ends up on Grace's doorstep, lured by a classified ad. He may have signed on for more than he expected though--and he may have found the one woman who can keep him from moving on.

No Match for Love
Andrew can't fathom how refined Lucy ended up as the caretaker to his dotty aunt, and somehow her arrival has prompted even more bizarre occurrences around the ranch. When they join forces to unearth the truth, will the attraction between Andrew and Lucy develop into more?

Meeting Her Match
When the tables are turned and a tenderhearted meddler becomes the beneficiary of a matchmaking scheme, her world is turned upside down. As her entire life changes, will she finally be able to tell the banker's son how much she cares for him?
- Publisher


Meet the Authors
Mary Connealy
"Mary Connealy " " " "Mary lives on a Nebraska ranch with her husband, Ivan, and has four grown daughters: Joslyn (married to Matt), Wendy, Shelly (married to Aaron), and Katy. And she is the grandmother of two beautiful grandchildren.
Karen Witemeyer
Karen Witemeyer holds a master's degree in psychology from Abilene Christian University and is a member of ACFW, RWA, and the Texas Coalition of Authors. She has published fiction in Focus on the Family's children's magazine, and has written several articles for online publications and anthologies. Tailor-Made Bride is her first novel. Karen lives in Abilene, Texas, with her husband and three children.
Carol Cox
CAROL COX is an award winning author, a native of Arizona, whose time is devoted to being a pastor's wife, mom to her grown son, and a home-school teacher to her daughter, church pianist, and youth worker. She loves anything that she can do with her family: reading, travelling, historical studies, and outdoor excursions. She is also open to new pursuits on her own, including genealogy research, crafts, and the local historical society. She plans to write more historical inspirational romance, in which her goals are to encourage Christian readers with entertaining and uplifting stories and to pique the interests of non-Christians who might read her novels. Some of her works include Spring's Memory, Land Of Promise, Arizona Brides, Ticket To Tomorrow and To Catch A Thief.
Regina Jennings
Regina Jennings is a graduate of Oklahoma Baptist University with a degree in English and a history minor. She has worked at "The Mustang News "and First Baptist Church of Mustang", "along with time at the Oklahoma National Stockyards and various livestock shows. She now lives outside Oklahoma City with her husband and four children. A
Customer Reviews For "4in1: A Match Made in Texas"
Write Your Own Review
Such fun!
By Hannah,

Sep 15 2015
These four novellas were so much fun to read. Short, sweet love stories set in a small town of busybodies. Loved the values, loved the stories, loved how much fun they were and 'catching up' with the main characters from the first books in the later ones. Basically a good fun read!

---
So Good!
By Margot,

Dec 18 2014
I thoroughly enjoyed this novella collection by four well known Christian romance authors. It was great to read about the fourth Archer brother, Neill and see him settled with a bride, having very much enjoyed Karen Witemeyer's series about his brothers. I especially enjoyed Regina Jennings' story of blind Grace, and the delightful way Clayton refused to let her wallow in self pity. He who hated to be seen fell in love with she who could not see. Carol Cox's Lucy fled the persistent but unwanted advances of Harvey and landed safely in the arms of Andrew, not without some suspense and humour along the way. It was really great to have Mary Connealy tie it all together with her story of matchmakermeddler Hannah having the tables turned on her when the whole town match-makes her with banker Marcus. All-in-all, a delightful journey into matches made in Texas in 1893.
---
Fun reading
By Jacqui,

Jul 03 2014
This was a really fun set of short stories to read. I was rapt from the first story when I found it was a continuation of Karen Witemeyer's series about the Archer brothers. It was a wonderful finale to the series of this family.
The other three stories were all just as enjoyable. All four stories are set in a little Texas town in the late 1800s and are connected by a mysterious matchmaker who you meet in the final story. A really enjoyable read.
{{review.title}}
By {{review.author.name}},

{{review.reviewCreatedDate | date:'MMM dd yyyy'}}

{{reviewdescription}}
{{review.text}}
---