4in1 Love is on the Way (Smitten Series)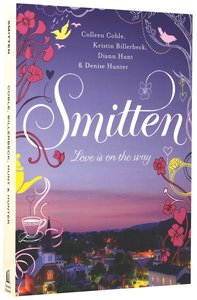 Four friends devise a plan to turn Smitten, Vermont, into the country's premier romantic getaway - and each finds her own true love along the way.

With Smitten Lumber closing, residents wonder if their town can stay afloat. Then four friends and local business owners - Natalie, Julia, Shelby, and Reese - decide the town is worth saving. How will they do it? They'll turn Smitten into a honeymoon destination!

As Natalie, Julia, Shelby, and Reese work to save the town, each discovers romance in her own life. Meanwhile, the faith of a little child reminds the whole town what it means to have real faith in the God who is the always and forever Love.

Discover a novel written by four of Christian fiction's most popular romance novelists - friends in real life who've drawn an amazing story of four friends! Includes a Reading Group Guide as well as "Conversation over Coffee with the Authors".

- Publisher
You May Also Be Interested In
About "4in1 Love is on the Way (Smitten Series)"
Four friends devise a plan to turn Smitten, Vermont, into the country's premier romantic getaway - and each finds her own true love along the way.

With Smitten Lumber closing, residents wonder if their town can stay afloat. Then four friends and local business owners - Natalie, Julia, Shelby, and Reese - decide the town is worth saving. How will they do it? They'll turn Smitten into a honeymoon destination!

As Natalie, Julia, Shelby, and Reese work to save the town, each discovers romance in her own life. Meanwhile, the faith of a little child reminds the whole town what it means to have real faith in the God who is the always and forever Love.

Discover a novel written by four of Christian fiction's most popular romance novelists - friends in real life who've drawn an amazing story of four friends! Includes a Reading Group Guide as well as "Conversation over Coffee with the Authors".

- Publisher
- Koorong


Welcome to Smitten, Vermont.
With the help of four friends, it's about to become the most romantic town in America.
The proposed closing of the lumber mill comes as unwelcome news for the citizens of Smitten. How will the town survive without its main employer? A close-knit group of women think they've got just the plan to save Smitten. They'll capitalize on its name and turn it into a tourist destination for lovers?complete with sweet shops, a high-end spa, romantic music on the square, and cabins outfitted with fireplaces and hot tubs.
But is this manly town ready for an influx of romantically-minded guests?
Country music sensation Sawyer Smitten, the town's hometown hero, wants to help by holding his own wedding there on Valentine's Day. And little Mia's lavender wreaths hang all over town as a reminder that faith can work miracles. Along the way, four women spearheading the town's transformation?energetic Natalie, sophisticated Julia, graceful Shelby, and athletic Reese?get in the spirit by reviving their own love lives.
Join best-selling inspirational romance authors (and real-life BFFs) Colleen Coble, Kristin Billerbeck, Diann Hunt, and Denise Hunter for an inspiring stay at the (soon-to-be) most romantic town on the eastern seaboard.
One visit . . . and you'll be smitten too.
- Publisher
Meet the Authors
Colleen Coble
Coble writes inspirational romance and is the author of the The Rock Harbor Series, The Aloha Reef Series, and Alaska Twilight, a Women of Faith fiction selection. She works as a church secretary and is busy restoring a Victorian home. She lives with her husband, Dave, in Indiana.
Kristin Billerbeck
Kristin Billerbeck is a Christy Award finalist and two-time winner of the ACFW Book of the Year.
Denise Hunter
Denise Hunter is the award-winning author of eight novels and three novellas including Surrender Bay: A Nantucket Love Story and The New Heights series. She and her husband helped start a new church two years ago that continues to reach the unchurched in their community. Denise serves on the worship team and leads Book Connection, a Christian fiction book club for women. She and her husband are raising three boys.
Diann Hunt
Hunt, feeling God has called her to the ministry of writing, shares stories of lives changed and strengthened by faith in a loving God. She writes fiction targeted to Christian women of the baby boomer generation. She lives in Indiana with her husband.
Customer Reviews For "4in1 Love is on the Way (Smitten Series)"
Write Your Own Review
Short and Sweet.
By Ibu Guru,

Jul 01 2017
These 4 books don't go too deep or detailed so they are an easy  light read.  The heroes are so similar that it is difficult to remember who they were afterwards!
---
Intresting book
By Bek,

Nov 01 2012
I love a good romance book that is not only about romance, i like an author who can wind God into the story line too, and these authors are all really good at doing that. I loved all the books in this book, they are exciting and keep you wanting to not put the book down!
---
Sweet Love Stories
By Iola,

Dec 08 2011
The main employer in Smitten, Vermont, is closing down, leaving a town full of peple wondering about their futures in a beauty spot none want to leave. Four friends come up with the idea of trading on the town's name, and turning it into a romantic getaway destination for honeymooners and couples. But the men of the town are not in favour of the idea. I enjoy these romance novella collections. They are a lighthearted, quick read, great for a change after reading something with a bit more depth, or as an escape from the pressures of life, and Smitten is guaranteed to make you smile. The four authors are close friends and brainstorming partners in real life, and this shows in this collection, in the personalities of the characters and the consistency of the plots. 
{{review.title}}
By {{review.author.name}},

{{review.reviewCreatedDate | date:'MMM dd yyyy'}}

{{reviewdescription}}
{{review.text}}
---
Other Titles In The "Smitten Series" Series View All