5in1: Sons of Encouragement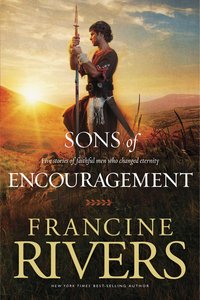 Here in one great value omnibus edition are all five titles in Francine Rivers' Sons of Encouragement series. These engaging, insightful novels bring to life the great biblical heroes of faith through the stories of the men who supported them, such as Amos, Jonathan, Caleb, and Silas.
You May Also Be Interested In
About "5in1: Sons of Encouragement"
Here in one great value omnibus edition are all five titles in Francine Rivers' Sons of Encouragement series. These engaging, insightful novels bring to life the great biblical heroes of faith through the stories of the men who supported them, such as Amos, Jonathan, Caleb, and Silas.
- Koorong

In this five-book compilation of the Sons of Encouragement series, New York Times best-selling author Francine Rivers illuminates the lives of five Biblical men who stood behind the heroes of the faith and quietly changed eternity. Aaron, Caleb, Jonathan, Amos, and Silas each faithfully sought after God in the shadows of His chosen leaders. They answered God's call to serve without recognition or fame. And they gave everything, knowing their reward might not come until the next life.
- Publisher


Meet the Author
Francine Rivers
New York Times best-selling author Francine Rivers (born 1947) began her literary career at the University of Nevada, Reno, where she graduated with a Bachelor of Arts degree in English and journalism. From 1976 to 1985, she had a successful writing career in the general market, and her books were highly acclaimed by readers and reviewers. Although raised in a religious home, Francine did not truly encounter Christ until later in life, when she was already a wife, a mother of three, and an established romance novelist.

Five years after becoming a born-again Christian in 1986, Francine released Redeeming Love as her statement of faith. This retelling of the biblical story of Gomer and Hosea, set during the time of the California Gold Rush, is now considered by many to be a classic work of Christian fiction. The popularity of Redeeming Love continues unabated over a quarter of a century after its publication.

Since Redeeming Love, Francine has published numerous novels with Christian themes - all best sellers. The Last Sin Eater, earned her the CBA Gold Medal award and has since been made into a feature film - She has continued to win both industry acclaim and reader loyalty around the globe. Her Christian novels have been awarded or nominated for numerous honours, including the RITA Award, the Christy Award, the ECPA Gold Medallion, and the Holt Medallion in Honour of Outstanding Literary Talent. In 1997, after winning her third RITA Award for inspirational fiction, Francine was inducted into the Romance Writers of America's Hall of Fame. Francine's books have been translated into over thirty languages, and she enjoys best-seller status in many countries, including Germany, the Netherlands, and South Africa.

Francine and her husband, Rick, live in northern California and enjoy time spent with their three grown children and taking every opportunity to spoil their grandchildren. Francine uses her writing to draw closer to the Lord, and she desires that through her work she might worship and praise Jesus for all He has done and is doing in her life.
Customer Reviews For "5in1: Sons of Encouragement"
Write Your Own Review
amazing
By Lucy,

May 16 2018
I have only recently read this and I love it. You get a deeper understanding of life back then and of how intermit our God is. I recommend for ages 14 up depending on the child.
---
My husband loves this book
By Seattle Sue,

Jan 25 2016
Sons of Encouragement is a compilation of five novellas, each complete in themselves.  They are about men who stood in the shadow of a leader of Israel, or a leader of the early church.  Reading their story brings their part of the scriptures to life for me.  Did you ever wonder who Silas was, besides being a companion of Paul?  Francine Rivers (with much wonderful enlightenment and assistance from Holy Spirit, I am sure) describes life in Jerusalem in the decades after Jesus' death and resurrection through the eyes of a scribe, Silas.  We get to know and love Aaron, the High Priest who loyally loved and served his younger brother, Moses.  Caleb - I will never read the book of Joshua again without looking for Caleb who was, to my surprise, an outsider, being of Hittite blood. "The Prince" is Jonathan, the blood-brother by covenant to David and son of his arch-enemy Saul the king.  Francine delves into the years when David was hunted and hounded by King Saul, all from Jonathan's perspective.  The "Prophet" is Amos.  With each new character, I found myself deciding 'he is my favourite'.  By the end of this book, I loved them all.  
---
Encouraging
By Richard,

Dec 09 2014
Though the stories are fictional, they are based on real charaters and their stories in the bible.
Each story follows the service of a man of God serving in the shadow of a greater figure from the bible.
Reveals how one's passion and dedication to God, can encourage and lead others, bringing glory to God,

Exploring the charaters' passion for God in the stories, exposes in the reader a deeper desire to trust in God and live out a stronger bolder faith.

Easy to read, hard to put down, and very encouraging.
Makes you want to be a better man livng with a closer relationship with God.


---
A must read
By Shantelle,

Dec 09 2014
After reading A Lineage of Grace, I had to read this book. I did enjoy A Lineage of Grace more but that could be because I'm female and felt I could relate to the stories more.
It retells the biblical stories of Caleb, Silas, Jonathon, Aaron and Peter. It gave me so much more insight into the history and significance of the the time they lived in. These characters I knew little about. Francine Rivers has written theses retellings well and has kept it quite close to scripture. There is added information for Silas as there is not as much details in the Bible about him. I love that at the end of each story there is a bible study and a reference to where the story is located in the bible. It meant I could go read the story for myself and see where certain details came from.
---
Incredible!
By Nyssa,

Jul 27 2013
I am an avid reader of Francine Rivers, and this latest instalment was wonderful as expected. What I didn't expect was to be totally blown away by the retelling of these bible heroes. I have read some of these stories many times before, but Francine's take just totally brings to life the characters in an incredible way. I was left after every story with an amazing reminder of the amazing grace and mercy of God. A very worthwhile read.
{{review.title}}
By {{review.author.name}},

{{review.reviewCreatedDate | date:'MMM dd yyyy'}}

{{reviewdescription}}
{{review.text}}
---