60 Questions Christians Ask About Jewish Beliefs and Practices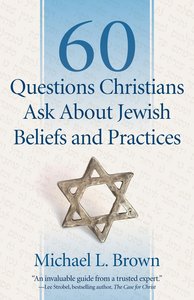 "An invaluable guide from a trusted expert."--Lee Strobel

Written in a compelling, accessible style, this book answers the most common questions about Jewish people and culture, drawn from the steady stream of queries Michael L. Brown's ministry receives every month.

As a Messianic believer, Brown provides clear answers to questions like "Are there Jewish denominations?" and "Do the Jewish people expect a literal Messiah?" The book also addresses Christians' questions about their own relationship to the Old Testament law, such as "Should Christians observe the Sabbath on Saturday?" and "Are Gentile Christians spiritual Jews?"

- Publisher
You May Also Be Interested In
About "60 Questions Christians Ask About Jewish Beliefs and Practices"
"An invaluable guide from a trusted expert."--Lee Strobel

Written in a compelling, accessible style, this book answers the most common questions about Jewish people and culture, drawn from the steady stream of queries Michael L. Brown's ministry receives every month.

As a Messianic believer, Brown provides clear answers to questions like "Are there Jewish denominations?" and "Do the Jewish people expect a literal Messiah?" The book also addresses Christians' questions about their own relationship to the Old Testament law, such as "Should Christians observe the Sabbath on Saturday?" and "Are Gentile Christians spiritual Jews?"
- Publisher


Meet the Author
Michael L Brown
Dr Michael L. Brown holds a Ph.D. in Near Eastern Languages and Literatures from New York University and has served as a visiting or adjunct professor at seven top seminaries. The author of more than twenty-five books, Brown also leads a ministry school that specializes in world missions and has preached and taught across America and around the world. He hosts the Line of Fire radio program, two hours daily and syndicated on several networks, as well as an apologetics TV program that airs on NRBTV. Michael has appeared often on secular and Christian media (including Piers Morgan, Tyra Banks, Phil Donahue, 700 Club, and Daystar) and has conducted debates or outreach lectures on major campuses, including Oxford University, the Hebrew University (Jerusalem), Ohio State University, Yale, and USC. Michael and his wife, Nancy, have two children and four grandchildren. They live near Charlotte, NC.