77 Fairly Safe Science Activities For Illustrating Bible Lessons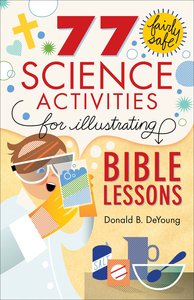 Nothing captures the attention of young people (and adults) like a creative object lesson. This hands-on book gives pastors, teachers, speakers, and homeschoolers 77 exciting science activities that reveal the order and grandeur of creation and encourage an appreciation of all God has made. These easy experiments illustrate the laws of nature, teach Bible principles, and affirm God's power as Creator. With catchy or unexpected results, the demonstrations make Bible truth unforgettable. The clearly explained experiments use common household objects, require little setup, and are illustrated with pictures and diagrams.

- Publisher
You May Also Be Interested In
About "77 Fairly Safe Science Activities For Illustrating Bible Lessons"
Nothing captures the attention of young people (and adults) like a creative object lesson. This hands-on book gives pastors, teachers, speakers, and homeschoolers 77 exciting science activities that reveal the order and grandeur of creation and encourage an appreciation of all God has made. These easy experiments illustrate the laws of nature, teach Bible principles, and affirm God's power as Creator. With catchy or unexpected results, the demonstrations make Bible truth unforgettable. The clearly explained experiments use common household objects, require little setup, and are illustrated with pictures and diagrams.
- Publisher


Meet the Author
Donald B Deyoung
Donald B. DeYoung, Ph.D., is professor of physics at Grace College, Winona Lake, Indiana, where he has taught since 1972. He is president of the Creation Research Society, and the author of 17 books on Bible-science topics.