90 Minutes in Heaven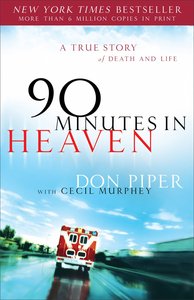 As he is driving home from a minister's conference, Baptist minister Don Piper collides with a semi-truck that crosses into his lane. He is pronounced dead at the scene. For the next 90 minutes, Piper experiences heaven where he is greeted by those who had influenced him spiritually. He hears beautiful music and feels true peace.

Back on earth, a passing minister who had also been at the conference is led to pray for Don even though he knows the man is dead. Piper miraculously comes back to life and the bliss of heaven is replaced by a long and painful recovery.

For years Piper kept his heavenly experience to himself. Finally, however, friends and family convinced him to share his remarkable story.

- Publisher
You May Also Be Interested In
About "90 Minutes in Heaven"
As he is driving home from a minister's conference, Baptist minister Don Piper collides with a semi-truck that crosses into his lane. He is pronounced dead at the scene. For the next 90 minutes, Piper experiences heaven where he is greeted by those who had influenced him spiritually. He hears beautiful music and feels true peace.

Back on earth, a passing minister who had also been at the conference is led to pray for Don even though he knows the man is dead. Piper miraculously comes back to life and the bliss of heaven is replaced by a long and painful recovery.

For years Piper kept his heavenly experience to himself. Finally, however, friends and family convinced him to share his remarkable story.
- Publisher


Meet the Authors
Don Piper
Don Piper has been an ordained minister since 1985 and has served in several capacities on church staffs, including six years as a senior pastor. He has appeared on numerous television and radio programs and has been the subject of countless newspaper and magazine features. He is the founder of Don Piper Ministries and is a popular speaker across the United States and abroad. He and his wife, Eva, are the parents of three grown children and live in Pasadena, Texas.
Cecil Murphey
New York Times? best-selling author and international speaker CECIL (CEC) MURPHEY has written or co-written more than a hundred books, including the runaway bestseller 90 Minutes in Heaven (with Don Piper) and Gifted Hands: The Ben Carson Story (with Dr. Ben Carson). His books have sold millions of copies, have been translated into more than 40 languages, and have brought hope and encouragement to countless people around the world