A 13-Week Course For Every Christian (Freedom In Christ Course)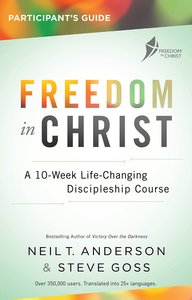 Churches have made many converts but far too few real disciples. Many Christians struggle to take hold of basic biblical truth and live it out. We often take a painfully long time to mature. This is not because we lack resources or teaching, but because we struggle to connect with truth. This is where the Freedom in Christ course comes in. It is specifically designed to help Christians take hold of who they are in Christ, resolve personal and spiritual conflicts through genuine repentance, and move on to maturity. This revised and updated edition of the popular course takes into account comments from the many who have used and reused it, and is accompanied by a revised Leader's Guide and completely new 4-disk DVD set.

- Publisher
You May Also Be Interested In
About "A 13-Week Course For Every Christian (Freedom In Christ Course)"
Churches have made many converts but far too few real disciples. Many Christians struggle to take hold of basic biblical truth and live it out. We often take a painfully long time to mature. This is not because we lack resources or teaching, but because we struggle to connect with truth. This is where the Freedom in Christ course comes in. It is specifically designed to help Christians take hold of who they are in Christ, resolve personal and spiritual conflicts through genuine repentance, and move on to maturity. This revised and updated edition of the popular course takes into account comments from the many who have used and reused it, and is accompanied by a revised Leader's Guide and completely new 4-disk DVD set.
- Publisher


Meet the Authors
Neil T Anderson
Dr. Neil T. Anderson is founder and president of Freedom in Christ Ministries, and was formerly chairman of the Practical Theology Department at Talbot School of Theology at Biola University. He holds five degrees from Talbot, Pepperdine University and Arizona State University, and worked as an aerospace engineer before entering the ministry. He has 20 years of experience as a pastor and has written several bestselling books on spiritual freedom, including Victory Over the Darkness, The Bondage Breaker, Finding Hope Again and Freedom from Addiction. - Publisher.
Steve Goss
Steve Goss is director of Freedom in Christ Ministries U.K. and presents the Freedom in Christ course. He has a background in marketing. He is married to Zoe, and they have two daughters.
Other Titles In The "Freedom In Christ Course" Series View All