A Better Way to Think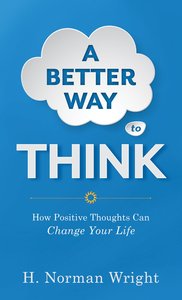 All of us talk to ourselves, carrying on inner dialogues much of the day. Some of this self-talk frees us, but much of it keeps us captive to negative patterns that have a corresponding negative impact on our emotions and actions. But we do not have to remain prisoners of fear, anxiety, despair, disillusionment, regret, or stress!

The bestselling author of A Better Way to Think shows readers how to truly bring every thought captive under Christ, thereby freeing themselves from the negative patterns of self-talk that have stymied their personal and spiritual growth for years. Biblically based and full of practical, proven strategies, this book helps readers harness the positive and creative power of their thought lives in order to experience lasting freedom from negativity.

- Publisher
You May Also Be Interested In
About "A Better Way to Think"
All of us talk to ourselves, carrying on inner dialogues much of the day. Some of this self-talk frees us, but much of it keeps us captive to negative patterns that have a corresponding negative impact on our emotions and actions. But we do not have to remain prisoners of fear, anxiety, despair, disillusionment, regret, or stress!

The bestselling author of A Better Way to Think shows readers how to truly bring every thought captive under Christ, thereby freeing themselves from the negative patterns of self-talk that have stymied their personal and spiritual growth for years. Biblically based and full of practical, proven strategies, this book helps readers harness the positive and creative power of their thought lives in order to experience lasting freedom from negativity.
- Publisher


Meet the Author
H Norman Wright
Dr. H. Norman Wright is one of America's most prominent Christian counselors. He is a licensed Marriage, Family and Child Therapist. Dr. Wright is a graduate of Westmont College, Fuller Theological Seminary (M.R.E.), Pepperdine University (M.A.). He has written numerous best-selling books on Communication, Family and Parenting. His titles include Communication: Key to Your Marriage; Always Daddy's Girl; Quiet Times for Couples; The Power of a Parent's Words and the Premarital Counseling Handbook. Dr. Wright is currently on the faculty of the Talbot School of Theology and was the former director of their Graduate Department of Marriage, Family and Child Counseling.