A Bride At Last (#03 in Unexpected Brides Series)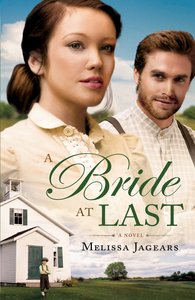 Abandoned by his mail-order bride, Silas Jonesey has fought an uphill battle to recover from a pattern of poor choices. Now his prayers for reconciliation have finally come true and his estranged wife has contacted him with her whereabouts.

Kate Dawson was supposed to be a mail-order bride, but upon realizing she'd been deceived about her intended groom, she's now settled into life as a schoolteacher. When the mother of a student passes away, Kate assumes she'll take on care of nine-year-old Anthony--until two men suddenly show up in town, claiming to be the boy's father.

Silas can see Anthony loves Kate, so he enlists her help in reaching out to the boy and attempting to prove his paternity to the court. When a common interest in Anthony leads to an interest in each other and Silas and Kate begin to think they can overcome their rocky start, neither is prepared for the secrets and past hurts that have yet to come to light. Can Silas, Kate, and Anthony's wounded souls bind them together or will all that stands between them leave them lonely forever?


"An author who keeps you guessing about how the couple will get together until the very end, Melissa Jagears's writing contains her trademark wit and a fresh spin that turns everyday situations into extraordinary ones."
--Naomi Rawlings, author of Falling for the Enemy

- Publisher
You May Also Be Interested In
About "A Bride At Last (#03 in Unexpected Brides Series)"
Abandoned by his mail-order bride, Silas Jonesey has fought an uphill battle to recover from a pattern of poor choices. Now his prayers for reconciliation have finally come true and his estranged wife has contacted him with her whereabouts.

Kate Dawson was supposed to be a mail-order bride, but upon realizing she'd been deceived about her intended groom, she's now settled into life as a schoolteacher. When the mother of a student passes away, Kate assumes she'll take on care of nine-year-old Anthony--until two men suddenly show up in town, claiming to be the boy's father.

Silas can see Anthony loves Kate, so he enlists her help in reaching out to the boy and attempting to prove his paternity to the court. When a common interest in Anthony leads to an interest in each other and Silas and Kate begin to think they can overcome their rocky start, neither is prepared for the secrets and past hurts that have yet to come to light. Can Silas, Kate, and Anthony's wounded souls bind them together or will all that stands between them leave them lonely forever?


"An author who keeps you guessing about how the couple will get together until the very end, Melissa Jagears's writing contains her trademark wit and a fresh spin that turns everyday situations into extraordinary ones."
--Naomi Rawlings, author of Falling for the Enemy
- Publisher


Meet the Author
Melissa Jagears
Melissa Jagears, an ESL teacher by trade, is a stay-at-home mother on a tiny Kansas farm with a fixer-upper house. She's a member of ACFW and CROWN fiction marketing, and her passion is to help Christian believers mature in their faith and judge rightly. Find her online at www.melissajagears.com.
Customer Reviews For "A Bride At Last (#03 in Unexpected Brides Series)"
Write Your Own Review
Something a little different
By Rel Mollet, Relz Reviewz,

Jul 07 2016
With the resurgence of historical romance novels, there are so many similar stories that it can lead to frustration for readers who aren't looking for the familiar comfort read, especially when it comes to mail order bride stories. Melissa's advantage over this sameness is her strength of characterisation and her lack of fear in creating a hero and heroine who are practical, naturally flawed, and respond to their circumstances with genuine emotion rather than a souped up version of perfection! A Bride at Last is sure to please readers of Deeanne Gist and Karen Witemeyer and can be read as a standalone novel, despite being the third in Melissa's Mail Order Bride series.
---
Dragged
By Iola,

Jul 31 2015
Both the main characters were damaged individuals who had a lot of faults, and made a lot of mistakes in the way they dealt with each other. That shouldn't necessarily be a negative: I don't want to read novels where perfect heroine meets perfect hero, he rescues her after she stubs her toe and they live happily ever after. But I would like them to be a little less stupid about their faults. In this respect, I was particularly annoyed by the "hero", who spent too much of the second half of the novel not forgiving the heroine for something in her past ... even though she'd managed to get past something in his past (I hope that sentence makes sense!).

The result was the plot seemed to drag. The first half dragged as they went around and around in circles trying to solve one plot mystery, then the second half dragged as they went around and around in circles trying to get over her past-which, frankly, seemed contrived. Overall, not a novel I enjoyed. But maybe that's just me. 

Thanks to NetGalley for providing a free ebook for review.
{{review.title}}
By {{review.author.name}},

{{review.reviewCreatedDate | date:'MMM dd yyyy'}}

{{reviewdescription}}
{{review.text}}
---
Other Titles In The "Unexpected Brides Series" Series View All