A Bride For Keeps (#01 in Unexpected Brides Series)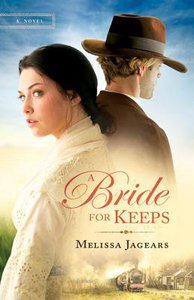 A Tender Tale of Love on the Prairie Perfect for CBA Readers

Although Everett Cline can hardly keep up with the demands of his homestead, he won't humiliate himself by looking for a helpmate ever again--not after being jilted by three mail-order brides. When a well-meaning neighbor goes behind his back to bring yet another mail-order bride to town, he has good reason to doubt it will work, especially after getting a glimpse at the woman in question. She's the prettiest woman he's ever seen, and it's just not possible she's there to marry a simple homesteader like him.

Julia Lockwood has never been anything more than a pretty pawn for her father or a business acquisition for her former fiance. Having finally worked up the courage to leave her life in Massachusetts, she's determined to find a place where people will value her for more than her looks. Having run out of all other options, Julia resorts to a mail-order marriage in far-away Kansas.

Everett is skeptical a cultured woman like Julia could be happy in a life on the plains, while Julia, deeply wounded by a past relationship, is skittish at the idea of marriage at all. When, despite their hesitations, they agree to a marriage in name only, neither one is prepared for the feelings that soon arise to complicate their arrangement. Can two people accustomed to keeping their distance let the barricades around their hearts down long enough to fall in love?

- Publisher
You May Also Be Interested In
About "A Bride For Keeps (#01 in Unexpected Brides Series)"
A Tender Tale of Love on the Prairie Perfect for CBA Readers

Although Everett Cline can hardly keep up with the demands of his homestead, he won't humiliate himself by looking for a helpmate ever again--not after being jilted by three mail-order brides. When a well-meaning neighbor goes behind his back to bring yet another mail-order bride to town, he has good reason to doubt it will work, especially after getting a glimpse at the woman in question. She's the prettiest woman he's ever seen, and it's just not possible she's there to marry a simple homesteader like him.

Julia Lockwood has never been anything more than a pretty pawn for her father or a business acquisition for her former fiance. Having finally worked up the courage to leave her life in Massachusetts, she's determined to find a place where people will value her for more than her looks. Having run out of all other options, Julia resorts to a mail-order marriage in far-away Kansas.

Everett is skeptical a cultured woman like Julia could be happy in a life on the plains, while Julia, deeply wounded by a past relationship, is skittish at the idea of marriage at all. When, despite their hesitations, they agree to a marriage in name only, neither one is prepared for the feelings that soon arise to complicate their arrangement. Can two people accustomed to keeping their distance let the barricades around their hearts down long enough to fall in love?
- Publisher


Meet the Author
Melissa Jagears
Melissa Jagears, an ESL teacher by trade, is a stay-at-home mother on a tiny Kansas farm with a fixer-upper house. She's a member of ACFW and CROWN fiction marketing, and her passion is to help Christian believers mature in their faith and judge rightly. Find her online at www.melissajagears.com.
Customer Reviews For "A Bride For Keeps (#01 in Unexpected Brides Series)"
Write Your Own Review
Wonderfully tender.
By Jenny Skinner,

Oct 22 2014
Melissa Jagears has written a beautiful story exploring heartache, betrayal, tension and danger that often accompanied the Western habit of 'Mail order Brides'. A Bride for Keeps also explores the tenderness of love blooming within sorrowful hearts. The characters have depth and personality. The dialogue between them is rich in complexity and draws you into their laughter, love and fears and anguish. Life on a ranch in Kansas provides more than just  a reason to live for our hurting heroine. It provides shelter, love and a burgeoning relationship with a Heavenly Father. You won't regret the time taken to read this book.
---
Love Story
By Claire,

Sep 04 2014
A well written love story with a good dose of the gospel. The female lead character has a traumatic past that makes it hard for her to trust God and men. An enjoyable read.
---
Must Read!!
By Johanna,

Jun 04 2014
I needed a romantic fix, and that is exactly what I got. Tender heart-breaking romance from characters with so much soul, I was literally transported into their world. I was so oblivious to the world around me it was great!!!  This is the first book of Jagears that I have read, and it will most definitely NOT be the last. Her character developments and highly engaging way of writing will definitely have you hooked. 
Brush all your Mail-Order Bride criticism aside! This book will NOT disappoint. I must confess, at the beginning I was very cautious about buying this book and asked several fellow bloggers about their opinions. Am I just glad I listened and didn't leave this book behind. It is a journey I know I will read again!! Don't be afraid. Pick it up ASAP!!
---
Sweet historical novel
By sarah,

Apr 08 2014
This novel reminds me of janette Okes love comes softly. It has a similar marriage of convenience type of storyline, yet with differences that make it an enjoyable read.

Both the main characters have hurts and past difficulties to face in a new marriage together. They deal with these difficulties in their own ways, yet realise a need for God to step in and be a central part of their lives together. 

The reader is given a glimpse of the aftereffects of abuse and how this can wreak havoc in a persons life. yet this was done in a gentle and subtle manner, not overpowering the story. Different aspects of homesteading in the 1800s are explored and hold the readers attention throughout. 

There is a clear gospel message towards the end of the story when Julia is exploring questions about God, but this is done in sensitive manner and only supports the story, not detracts from it. 

I read this easily in two days, and I felt the length of the novel was just right. Excellent for a restful weekend.
---
An good take on a good genre
By Jessica R. Wakefield,

Dec 01 2013

Straight off the bat this book was not what I thought it was going to be. It was not a typical, mail-order-bride book, where the loveless marriage overcomes hardship and they fall in love. That did happen but not in the way one expects. It might look like something similar has crossed your reader path before but this is a little different. The main reason for that is the two main characters - Everett and Julia.

These two have secrets they feel they need to keep and thus aren't terribly interested in a marriage based on friendship, or even love. It's more like a mutual agreement to live silently together, going through the motions of life. Which is what these two do. They don't treat each other well, they don't communicate well (if at all) and they don't know how to love  each other well (even as friends). Everett has had a bad history with mail order brides, so when his friend offers him one without telling him, he begrudgingly accepts it but he doesn't want to like her (even if she is really pretty). Julia is interested in starting a new life, far away from the horror she left back East, but she's not interested in a real marriage. These two are stubborn and it takes them a long time to figure themselves out and each other. They are mostly likebale, but it can get a bit tedious watching them silently live together day after day.

I did think that Everett was a little preoccupied with Julia's looks and trying to keep his distance from her was hard as they were married but not in love and I get it - I know guys are visual people, but I'm not sure they thought about sex that much 150 years ago (especially if they were a God fearing man - which Everett was).

Overall I did enjoy this book because it was just that little bit different from the norm in this genre.

 Thank you to NetGalley for a copy of this novel for review.  I was in no way obliged to give a positive review.
{{review.title}}
By {{review.author.name}},

{{review.reviewCreatedDate | date:'MMM dd yyyy'}}

{{reviewdescription}}
{{review.text}}
---
Other Titles In The "Unexpected Brides Series" Series View All