A Bride Most Begrudging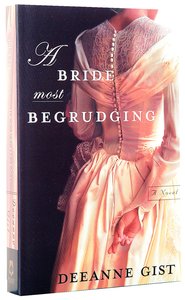 Do You Believe in Love at First Fight?

Any ship arriving from England means good news for Virginia colony farmers. The "tobacco brides" would be on board - eligible women seeking a better life in America, bartered for with barrels of tobacco from the fields.

Drew O'Connor isn't stirred by news of a ship full of brides. Still broken-hearted from the loss of his beloved, he only wants a maid to tend his house and care for his young sister.

What he ends up with is a wife - a feisty redhead who claims she is Lady Constance Morrow, daughter of an Earl, brought to America against her will. And she want to go straight back to England as soon as she possibly can. She hasn't the foggiest notion how to cook, she dares to argue with her poor husband, and spends more time working on mathematical equations than housework. What kind of a wife is that? Drew's Christian forbearance is in for some testing.

Headstrong and intelligent, deeply moral but incredibly enticing, Constance turns what was supposed to be a marriage of convenience into something most inconvenient, indeed.


- Publisher When Lady Constance Morrow ?nds herself held against her will aboard a ship bound for the American colonies???a ship ?lled with ???tobacco brides??? and felons???she is quite sure that as soon as she arrives she will ?nd a reasonable man who will believe her father is an earl and send her back on the next ship to England. Instead she meets Drew O???Connor, a determined Colonial farmer who is nearly as headstrong as she is. Drew wins Constance as his bride but soon realizes he has taken on much more than he bargained for

- Publisher
You May Also Be Interested In
About "A Bride Most Begrudging"
Do You Believe in Love at First Fight?

Any ship arriving from England means good news for Virginia colony farmers. The "tobacco brides" would be on board - eligible women seeking a better life in America, bartered for with barrels of tobacco from the fields.

Drew O'Connor isn't stirred by news of a ship full of brides. Still broken-hearted from the loss of his beloved, he only wants a maid to tend his house and care for his young sister.

What he ends up with is a wife - a feisty redhead who claims she is Lady Constance Morrow, daughter of an Earl, brought to America against her will. And she want to go straight back to England as soon as she possibly can. She hasn't the foggiest notion how to cook, she dares to argue with her poor husband, and spends more time working on mathematical equations than housework. What kind of a wife is that? Drew's Christian forbearance is in for some testing.

Headstrong and intelligent, deeply moral but incredibly enticing, Constance turns what was supposed to be a marriage of convenience into something most inconvenient, indeed.

- Publisher

When Lady Constance Morrow ?nds herself held against her will aboard a ship bound for the American colonies???a ship ?lled with ???tobacco brides??? and felons???she is quite sure that as soon as she arrives she will ?nd a reasonable man who will believe her father is an earl and send her back on the next ship to England. Instead she meets Drew O???Connor, a determined Colonial farmer who is nearly as headstrong as she is. Drew wins Constance as his bride but soon realizes he has taken on much more than he bargained for
- Publisher


Meet the Author
Deeanne Gist
Deeanne Gist, the bestselling author of A Bride Most Begrudging and The Measure of a Lady, has a background in education and journalism. Her credits include People magazine, Parents, and Parenting. With a line of parenting products called "I Did It! Productions" and a degree from Texas A and M, she continues her writing and speaking. She and her family live in Houston, Texas. Visit Deeanne's Web site at www.deeannegist.com
Customer Reviews For "A Bride Most Begrudging"
Write Your Own Review
Probably a 3.5 star rating would be fair
By Lisa,

Nov 20 2014
I just finished my first Deeanne Gist novel and I am left a little surprised.  The mood or tone flips quite suddenly, and I was left stunned in the last 5 pages as a character I had grown to enjoy very much acted in a way that I thought was quite out of character.  The passion between the characters is evident but modestly written.  I look forward to seeing how this author develops in her next novels as I understand this was her first.  There were a couple details that left me feeling that the story was a bit unrealistic but I enjoyed the novel anyway.
---
A Bride Most Begrudging by Deeanne Gist
By Narelle Mollet,

Apr 12 2007
Deeanne Gist's first novel, A Bride Most Begrudging, is refreshing and entertaining in a genre where you may think you have read it all.

It's 1643 and a ship arrives in the new colony of Virginia, filled with women known as "tobacco brides", hoping to snare a husband and a chance for a new life.....except one Lady Constance Morrow, transported against her will and desperate to return to England.

After a humiliating experience as the brides were purchased, Constance finds herself at the home of Drew O'Connor, the only single man in Virginia who does not want a wife, especially one with without any practical skills in cooking or home making. Drew cannot fathom a woman who is beautiful yet argumentative, intelligent yet impractical and claims to be the daughter to an earl! 

This book is beautifully written transporting the reader to the New World with rich and colourful descriptions of the scenery and culture.
The dialogue between Constance and Drew is both witty and enthralling as they grapple with genuine emotions and social constraints. If you choose historicals sparingly, as I do, make sure Deeanne Gist's books make the cut!
{{review.title}}
By {{review.author.name}},

{{review.reviewCreatedDate | date:'MMM dd yyyy'}}

{{reviewdescription}}
{{review.text}}
---