A Cast of Stones (#01 in The Staff And The Sword Series)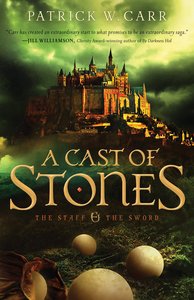 2014 Carol Award Winner for Speculative

The Fate of the Kingdom Awaits the Cast of Stones

In the backwater village of Callowford, roustabout Errol Stone is enlisted by a church messenger arriving with urgent missives for the hermit priest in the hills. Eager for coin, Errol agrees to what he thinks will be an easy task, but soon finds himself hunted by deadly assassins. Forced to flee with the priest and a small band of travelers, Errol soon learns he's joined a quest that could change the fate of his kingdom.

Protected for millennia by the heirs of the first king, the kingdom's dynasty nears its end and the selection of the new king begins--but in secret and shadow. As danger mounts, Errol must leave behind the stains and griefs of the past, learn to fight, and discover who is hunting him and his companions and how far they will go to stop the reading of the stones.


"With an engaging, imaginative world that bristles with danger, characters that keep you guessing, and a story that sticks with you, A Cast of Stones will keep you devouring pages until the very end. I highly recommend it!" --John W. Otte, author of Failstate

"Carr's debut, the first in a series, is assured and up-tempo, with much to enjoy in characterization and description--not least the homely, life-as-lived details." -Publishers Weekly

This fast-paced fantasy debut set in a medieval world is a winner. Both main and secondary characters are fully drawn and endearing, and Errol's transformation from drunkard to hero is well plotted. Carr is a promising CF author to watch. Fans of epic Christian fantasies will enjoy discovering a new voice.

"Like the preceding series title, Inescapable, this tale of suspense offers a colorful cast of characters, small-town drama, and a hint of romance. A sure bet for fans of Hannah Alexander." --Library Journal

"[Good fantasy books] have to be excellent. Good storytelling and exceptional characters with circumstances that are easy enough to follow and wrap your brain around but keep you entertained and guessing... Cast of Stones has found itself firmly in that list of books. I absolutely, one hundred percent loved this book." --Radiant Lit

- Publisher
You May Also Be Interested In
About "A Cast of Stones (#01 in The Staff And The Sword Series)"
2014 Carol Award Winner for Speculative

The Fate of the Kingdom Awaits the Cast of Stones

In the backwater village of Callowford, roustabout Errol Stone is enlisted by a church messenger arriving with urgent missives for the hermit priest in the hills. Eager for coin, Errol agrees to what he thinks will be an easy task, but soon finds himself hunted by deadly assassins. Forced to flee with the priest and a small band of travelers, Errol soon learns he's joined a quest that could change the fate of his kingdom.

Protected for millennia by the heirs of the first king, the kingdom's dynasty nears its end and the selection of the new king begins--but in secret and shadow. As danger mounts, Errol must leave behind the stains and griefs of the past, learn to fight, and discover who is hunting him and his companions and how far they will go to stop the reading of the stones.


"With an engaging, imaginative world that bristles with danger, characters that keep you guessing, and a story that sticks with you, A Cast of Stones will keep you devouring pages until the very end. I highly recommend it!" --John W. Otte, author of Failstate

"Carr's debut, the first in a series, is assured and up-tempo, with much to enjoy in characterization and description--not least the homely, life-as-lived details." -Publishers Weekly

This fast-paced fantasy debut set in a medieval world is a winner. Both main and secondary characters are fully drawn and endearing, and Errol's transformation from drunkard to hero is well plotted. Carr is a promising CF author to watch. Fans of epic Christian fantasies will enjoy discovering a new voice.

"Like the preceding series title, Inescapable, this tale of suspense offers a colorful cast of characters, small-town drama, and a hint of romance. A sure bet for fans of Hannah Alexander." --Library Journal

"[Good fantasy books] have to be excellent. Good storytelling and exceptional characters with circumstances that are easy enough to follow and wrap your brain around but keep you entertained and guessing... Cast of Stones has found itself firmly in that list of books. I absolutely, one hundred percent loved this book." --Radiant Lit
- Publisher


Meet the Author
Patrick W Carr
patrick w carr teaches high school math and makes his home in tennessee, with his wife, mary, and their four sons.
Customer Reviews For "A Cast of Stones (#01 in The Staff And The Sword Series)"
Write Your Own Review
Clever and Awesome
By Lucy,

May 16 2018
I have these books and love them. The author was very clever at making them christian by giving the Father, the Son and the Holy Spirit different names. You really get into them, my three older sisters, my younger brother and myself all struggled to put the books down. I recommended them to a friend and she has now bought them as well. 
---
Extraordinarily written
By Molly,

Jul 13 2017
It's a breathtaking start to a jawdropping trilogy.  The readers heart is beating wildly with every brush of death. This masterpiece saga has the reader on his knees pleading mercy from the ruthless author.  Carr has done some superb work here; well worth the read.

---
Brilliant read
By Kezza,

Apr 11 2017
I absolutely loved this series! I was a little uncertain at the start but I got so enthralled I couldn't put it down. I ended up needing to buy all three books so that I wasn't left hanging. I would highly recommend this book to anyone that likes fantasy genre. 
---
A must read
By Emily,

Feb 18 2017
A Cast of Stones is the first book in the Staff and the Sword series. When Errol Stone agrees to do a task, he finds that it wouldn't be as easy as he thought. He soon finds himself fleeing to stay alive.  I loved every second of this book. The excitement and adventure kept me turning the pages. Great for ages 14 and up. This is a must read book. 
---
Captivating Read
By Molly,

Nov 25 2015
One of the best books I've ever read!
As Errol Stone begins his life-threatening adventure that will save the kingdom, you find yourself drawn in by this adrenaline activating book. Well written, A CAST OF STONES, is the first of the amazing THE STAFF AND THE SWORD trilogy.
{{review.title}}
By {{review.author.name}},

{{review.reviewCreatedDate | date:'MMM dd yyyy'}}

{{reviewdescription}}
{{review.text}}
---
Other Titles In The "The Staff And The Sword Series" Series