A Catholic Reading Guide to Conditional Immortality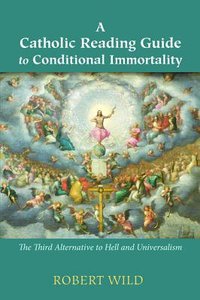 Like many other people, the long tradition about hell has been a source of serious confusion and distress for me. Over the past six years or so I was relieved to discover two other alternatives that are also part of the Christian tradition, though less prominent--universalism and the subject of the present book, conditional immortality. Universalism--that everyone would eventually be saved--did not, in the final analysis, seem to really come to grips with the overwhelming scriptural testimony that some kind of radical fateful decision is possible to people. Conditional immortality--that people who absolutely refuse God's plan for them will be taken out of existence--seems to me the best scriptural understanding of what the Lord meant by ""losing one's soul""--not everlasting punishment but the withdrawal of existence. This book is an attempt to explain this theological theory. It is not presented as a definite dogma or teaching of the church, but as one of the possible results of a persistent and irrevocable decision against God. ""For nearly a half century, evangelicals, Anglicans, and other Protestants have been rethinking hell. Does its fire torment forever (traditionalism), purify to enter heaven (universalism), or finally annihilate (conditional immortality)? In this ambitious and engaging book, Wild introduces fellow Catholics to conditional immortality, which he views as possibility and not as dogma.I join Wild in welcoming Catholics to the ongoing dialogue."" --Edward Fudge, Author ofThe Fire That Consumes ""A Catholic Reading Guide to Conditional Immortality usefully situates a recent development in eschatology. The area is to some extent new, but is receiving attention from such serious Catholic theologians as Paul Griffith, as he and others probe more deeply and honestly into the realism of Christian hope in eternal life.The fate of angels and human beings is too important to be left ignored or unexamined."" --Anthony J. Kelly, CSsR, Professor of Theology and Philosophy, Australian Catholic University Robert Wild is a Catholic priest and member of the community of Madonna House in Ontario, Canada. He is the author of A Catholic Reading Guide to Universalism (2015), also published by Wipf and Stock."

- Publisher
You May Also Be Interested In
About "A Catholic Reading Guide to Conditional Immortality"
Like many other people, the long tradition about hell has been a source of serious confusion and distress for me. Over the past six years or so I was relieved to discover two other alternatives that are also part of the Christian tradition, though less prominent--universalism and the subject of the present book, conditional immortality. Universalism--that everyone would eventually be saved--did not, in the final analysis, seem to really come to grips with the overwhelming scriptural testimony that some kind of radical fateful decision is possible to people. Conditional immortality--that people who absolutely refuse God's plan for them will be taken out of existence--seems to me the best scriptural understanding of what the Lord meant by ""losing one's soul""--not everlasting punishment but the withdrawal of existence. This book is an attempt to explain this theological theory. It is not presented as a definite dogma or teaching of the church, but as one of the possible results of a persistent and irrevocable decision against God. ""For nearly a half century, evangelicals, Anglicans, and other Protestants have been rethinking hell. Does its fire torment forever (traditionalism), purify to enter heaven (universalism), or finally annihilate (conditional immortality)? In this ambitious and engaging book, Wild introduces fellow Catholics to conditional immortality, which he views as possibility and not as dogma.I join Wild in welcoming Catholics to the ongoing dialogue."" --Edward Fudge, Author ofThe Fire That Consumes ""A Catholic Reading Guide to Conditional Immortality usefully situates a recent development in eschatology. The area is to some extent new, but is receiving attention from such serious Catholic theologians as Paul Griffith, as he and others probe more deeply and honestly into the realism of Christian hope in eternal life.The fate of angels and human beings is too important to be left ignored or unexamined."" --Anthony J. Kelly, CSsR, Professor of Theology and Philosophy, Australian Catholic University Robert Wild is a Catholic priest and member of the community of Madonna House in Ontario, Canada. He is the author of A Catholic Reading Guide to Universalism (2015), also published by Wipf and Stock."
- Publisher


Meet the Author
Robert Wild
Robert Wild is an ecologist and social scientist with 25 years practical experience of working with communities at protected areas in East Africa, Caribbean, Indian Ocean and Europe. He is chair of the IUCN's Specialist Group on Cultural and Spiritual Values of Protected Areas.