A Community Called Atonement (#01 in Living Theology Series)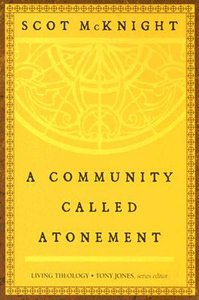 $28.99
$23.19
You Save: $5.80 (20%)
Paperback
Over the centuries the church developed a number of metaphors, such as penal substitution or the ransom theory, to speak about Christ's death on the cross and the theological concept of the atonement. Yet too often, says Scot McKnight, Christians have held to the supremacy of one metaphor over against the others, to their detriment. He argues instead that to plumb the rich theological depths of the atonement, we must consider all the metaphors of atonement and ask whether they each serve a larger purpose.

A Community Called Atonement is a constructive theology that not only values the church's atonement metaphors but also asserts that the atonement fundamentally shapes the life of the Christian and of the church. That is, Christ identifies with humans to call us into a community that reflects God's love (the church)--but that community then has the responsibility to offer God's love to others through missional practices of justice and fellowship, living out its life together as the story of God's reconciliation. Scot McKnight thus offers an accessible, thought-provoking theology of atonement that engages the concerns of those in the emerging church conversation and will be of interest to all those in the church and academy who are listening in.
Publisher.



- Publisher McKnight discusses the value of the church's atonement metaphors, asserting that the theory of atonement fundamnetally shapes the life of the Christian and of the church. He contends that while Christ calls humanity into a community that reflects God's love, that community then has a responsibility to offer God's love to others.

- Publisher
You May Also Be Interested In
About "A Community Called Atonement (#01 in Living Theology Series)"
Over the centuries the church developed a number of metaphors, such as penal substitution or the ransom theory, to speak about Christ's death on the cross and the theological concept of the atonement. Yet too often, says Scot McKnight, Christians have held to the supremacy of one metaphor over against the others, to their detriment. He argues instead that to plumb the rich theological depths of the atonement, we must consider all the metaphors of atonement and ask whether they each serve a larger purpose.

A Community Called Atonement is a constructive theology that not only values the church's atonement metaphors but also asserts that the atonement fundamentally shapes the life of the Christian and of the church. That is, Christ identifies with humans to call us into a community that reflects God's love (the church)--but that community then has the responsibility to offer God's love to others through missional practices of justice and fellowship, living out its life together as the story of God's reconciliation. Scot McKnight thus offers an accessible, thought-provoking theology of atonement that engages the concerns of those in the emerging church conversation and will be of interest to all those in the church and academy who are listening in.
Publisher.


- Publisher

McKnight discusses the value of the church's atonement metaphors, asserting that the theory of atonement fundamnetally shapes the life of the Christian and of the church. He contends that while Christ calls humanity into a community that reflects God's love, that community then has a responsibility to offer God's love to others.
- Publisher


Meet the Author
Scot Mcknight
Scot McKnight (Ph.D., University of Nottingham) is the Karl A. Olsson Professor in Religious Studies at North Park University. Prior to joining the NPU faculty in 1994, he was a professor at Trinity Evangelical Divinity School. He has written widely on the historical Jesus, Christian spirituality, and the Emerging Church. One of McKnight's more popular books, The Jesus Creed, won the Christianity Today's book award for 2004 in the area of Christian living. McKnight's blog, JesusCreed.org, has been a popular site for Emerging Church discussion.
His other publications include: The Real Mary: Why Evangelical Christians Can Embrace the Mother of Jesus; Praying with the Church: Following Jesus Daily, Hourly, Today; Jesus and His Death: Historiography, the Historical Jesus, and Atonement Theory; Embracing Grace: A Gospel for All of Us; Turning to Jesus: The Sociology of Conversion in the Gospels; The Story of the Christ, with Philip Law; and 1 Peter and Galatians in NIV Application Commentary.
His most recent publications include The Blue Parakeet: Rethinking How You Read the Bible and James (New International Commentary on the New Testament).
Other Titles In The "Living Theology" Series
$27.99




Order now to secure your copy when our stock arrives. eBook is Available. 0 Available. Expected to ship in 3 weeks from Australia.

Formats