A Cowboy of Convenience (Love Inspired Series Historical)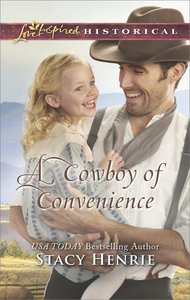 A real home - it's what Vienna Howe dearly wants for her young daughter. Yet the ramshackle property she just inherited hardly qualifies. She can't afford the repairs - until foreman West McCall suggests they start a dude ranch together. For propriety's sake, they'll need a marriage in name only...a practical solution for two wary hearts. Years ago, West convinced Vienna to marry a man of means, never realising how cruel her husband could be. Guilt-ridden, he intends to secure the lovely widow's future. But despite his reluctance to get close to anyone, this union might do more than fix Vienna's ranch. It could open the door to a warm, loving future...

- Publisher
You May Also Be Interested In
About "A Cowboy of Convenience (Love Inspired Series Historical)"
A real home - it's what Vienna Howe dearly wants for her young daughter. Yet the ramshackle property she just inherited hardly qualifies. She can't afford the repairs - until foreman West McCall suggests they start a dude ranch together. For propriety's sake, they'll need a marriage in name only...a practical solution for two wary hearts. Years ago, West convinced Vienna to marry a man of means, never realising how cruel her husband could be. Guilt-ridden, he intends to secure the lovely widow's future. But despite his reluctance to get close to anyone, this union might do more than fix Vienna's ranch. It could open the door to a warm, loving future...
- Publisher


Meet the Author
Stacy Henrie
Stacy Henrie has always had an avid appetite for history, fiction and chocolate. While she had a goal to write and publish a book one day, she turned her attentions first to graduating with a bachelor's degree in public relations. Not long after, she switched from writing press releases and newsletters to writing inspirational historical romances as a stay-at-home mom. Stacy loves reading, interior decorating, romantic movies, and most of all, laughing with her family.
Other Titles In The "Love Inspired Series Historical" Series View All