A Cut Above (#03 in Shop-til-u-drop Collection Series)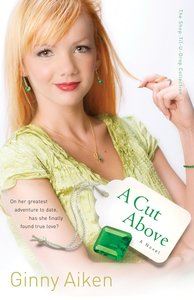 At the behest of her boss Mona, Andie Adams is on her way to Colombia to broker a deal on some emeralds (despite her negligible negotiating skills) and she is going alone. It's just too much trouble traveling with the whole S.T.U.D. entourage. Maybe this time she can get in and get back without any major drama.
But before she even gets close to the mines, everything turns Twilight-Zone-weird. The guide who is supposed to meet her at the airport doesn't. Her high-school Spanish goes AWOL. And her taxi driver gives her an unwanted tour of Bogotá. But that's nothing compared to what awaits her the next day. Can her cute co-star Max get her out of there alive? And what will this trip mean for their reluctant romance? Hold on to your seats for another adventure-filled ride with A Cut Above.

- Publisher
You May Also Be Interested In
About "A Cut Above (#03 in Shop-til-u-drop Collection Series)"
At the behest of her boss Mona, Andie Adams is on her way to Colombia to broker a deal on some emeralds (despite her negligible negotiating skills) and she is going alone. It's just too much trouble traveling with the whole S.T.U.D. entourage. Maybe this time she can get in and get back without any major drama.
But before she even gets close to the mines, everything turns Twilight-Zone-weird. The guide who is supposed to meet her at the airport doesn't. Her high-school Spanish goes AWOL. And her taxi driver gives her an unwanted tour of Bogotá. But that's nothing compared to what awaits her the next day. Can her cute co-star Max get her out of there alive? And what will this trip mean for their reluctant romance? Hold on to your seats for another adventure-filled ride with A Cut Above.
- Publisher


Meet the Author
Ginny Aiken
Former newspaper reporter Ginny Aiken discovered books at a very early age, writing her first novel at age fifteen. She is the author of the Silver Hills Trilogy, the Deadly Decor Mysteries, Priced to Move, and A Steal of a Deal. A frequent speaker at women's events and writers' conferences, Ginny and her husband have four sons and live in Columbia, Pennsylvania.
Other Titles In The "Shop-til-u-drop Collection" Series