A Delirious Summer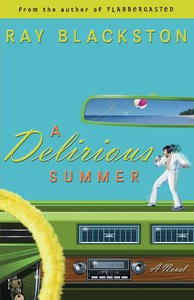 To Neil Rucker, seven months, one week, and a day is too long to wait in between dates. But life as a Spanish language teacher to missionaries in Ecuador affords little opportunity for romance.

When his worst student, Jay Jarvis, suggests a respite in Greenville, South Carolina, so begins Neil's delirious summer. Neil sees his chance to meet a sweet succession of southern women, but little does he know that the girls of Greenville are now more elusive than a snowflake in the Ecuadorian jungle.

As they church-hop in search of the perfect man, Neil tries to find the perfect girl among the Neapolitan choices: a demanding redhead, a joy-riding blonde, and a very tardy but intriguing girl with raven hair and a pierced eyebrow. Who knew relational gumbo would look like this?

- Publisher
You May Also Be Interested In
About "A Delirious Summer"
To Neil Rucker, seven months, one week, and a day is too long to wait in between dates. But life as a Spanish language teacher to missionaries in Ecuador affords little opportunity for romance.

When his worst student, Jay Jarvis, suggests a respite in Greenville, South Carolina, so begins Neil's delirious summer. Neil sees his chance to meet a sweet succession of southern women, but little does he know that the girls of Greenville are now more elusive than a snowflake in the Ecuadorian jungle.

As they church-hop in search of the perfect man, Neil tries to find the perfect girl among the Neapolitan choices: a demanding redhead, a joy-riding blonde, and a very tardy but intriguing girl with raven hair and a pierced eyebrow. Who knew relational gumbo would look like this?
- Publisher


Meet the Author
Ray Blackston
Ray Blackston of Greenville, South Carolina, worked as a buyer and a broker for eleven years before cashing in his modest 401k and leaving his corporate cubicle to write full time. He serves on the missions committee of his church, has traveled to rural Ecuador on a summer missions program, and coaches his seven-year-old nephew, Action Jackson, in T-Ball. You can visit Ray on the Web at www.rayblackston.com.