A Disruptive Gospel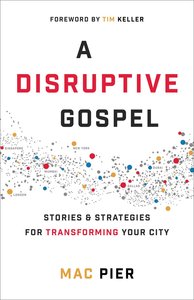 Stories Help Readers Impact Their Communities

What would happen in your city if 10 percent more people became vibrant Christians who worked together for the good of the community? Mac Pier knows from firsthand experience that when the gospel invades your city, big things start to happen. For thirty years he's watched and participated in what God has been doing in New York City. Now he shares true stories of transformation to inspire readers who long to see God move in their own communities. He helps readers understand the greatest barriers to the gospel in major cities all over the world, shares hopeful stories of reconciliation, highlights the passion and leadership of millennials advancing the gospel, and offers insight into how to start or join a gospel movement wherever in the world readers find themselves.

Anyone looking for motivation and inspiration to join God where he is working will love these exciting dispatches from the front lines of outreach on five continents. Foreword by Tim Keller.

- Publisher
You May Also Be Interested In
About "A Disruptive Gospel"
Stories Help Readers Impact Their Communities

What would happen in your city if 10 percent more people became vibrant Christians who worked together for the good of the community? Mac Pier knows from firsthand experience that when the gospel invades your city, big things start to happen. For thirty years he's watched and participated in what God has been doing in New York City. Now he shares true stories of transformation to inspire readers who long to see God move in their own communities. He helps readers understand the greatest barriers to the gospel in major cities all over the world, shares hopeful stories of reconciliation, highlights the passion and leadership of millennials advancing the gospel, and offers insight into how to start or join a gospel movement wherever in the world readers find themselves.

Anyone looking for motivation and inspiration to join God where he is working will love these exciting dispatches from the front lines of outreach on five continents. Foreword by Tim Keller.
- Publisher


Meet the Authors
Mac Pier
Mac Pier is president and founder of the New York City LeadeMac Pier is president and founder of the New York City Leadership Center and has hosted a half dozen urban consultationsrship Center and has hosted a half dozen urban consultations for 10,000 leaders since 1995. He is the author of The Powe for 10,000 leaders since 1995. He is the author of The Power of a City at Prayer. r of a City at Prayer. C
Timothy Keller (Fwrd)
Timothy Keller is the founding pastor of Redeemer Presbyterian Church in Manhattan, which he started in 1989 with his wife, Kathy. For over twenty-five years he has led a diverse congregation of young professionals that has grown to a weekly attendance of over 5,000.

He is also Chairman of Redeemer City to City, which starts new churches in New York and other global cities, and publishes books and resources for faith in an urban culture. In ten years they helped to launch over 250 churches in 48 cities. More recently, Dr. Keller's books - including the New York Times bestselling The Reason for God, The Prodigal God, and Prayer: Experiencing Awe and Intimacy with God - have sold over 1 million copies and been translated into 15 languages.

Tim was born in 1950, raised in Pennsylvania, and educated at Bucknell University, Gordon-Conwell Theological Seminary, and Westminster Theological Seminary. He previously served as the pastor of West Hopewell Presbyterian Church in Hopewell, Virginia, Associate Professor of Practical Theology at Westminster Theological Seminary, and Director of Mercy Ministries for the Presbyterian Church in America.

Tim and his wife Kathy have three adult sons.