A Distinct Twenty-First Century Pentecostal Hermeneutic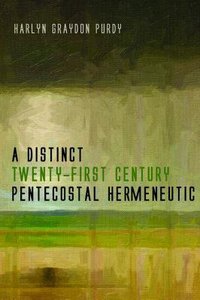 Why another book about biblical interpretation (hermeneutics)? First, this is not just another book about hermeneutics. It deals specifically with hermeneutics as practiced y Pentecostals; rather, more accurately, as hermeneutics should be practiced by Pentecostals. The book presents a distinct Pentecostal hermeneutic that moves away from exclusive use of historical-grammatical methodology. The hermeneutic presented here employs an eclectic methodology and a quadratic strategy. Scripture, Spirit, trained leader, and community, in the proposed hermeneutic, are shown to work together to produce an interpretation that engages both creative imagination and authorial intent. The text offers pastors, professors, and laity alike a method and approach that will allow them to interpret Scripture from a clearly Pentecostal perspective. An important addition to the book is an outline for an undergraduate course instructing students in this distinct Pentecostal hermeneutic.

- Publisher
You May Also Be Interested In
About "A Distinct Twenty-First Century Pentecostal Hermeneutic"
Why another book about biblical interpretation (hermeneutics)? First, this is not just another book about hermeneutics. It deals specifically with hermeneutics as practiced y Pentecostals; rather, more accurately, as hermeneutics should be practiced by Pentecostals. The book presents a distinct Pentecostal hermeneutic that moves away from exclusive use of historical-grammatical methodology. The hermeneutic presented here employs an eclectic methodology and a quadratic strategy. Scripture, Spirit, trained leader, and community, in the proposed hermeneutic, are shown to work together to produce an interpretation that engages both creative imagination and authorial intent. The text offers pastors, professors, and laity alike a method and approach that will allow them to interpret Scripture from a clearly Pentecostal perspective. An important addition to the book is an outline for an undergraduate course instructing students in this distinct Pentecostal hermeneutic.
- Publisher


Meet the Author
Harlyn Graydon Purdy
Harlyn Purdy is President of Pentecostal Bible College, Malawi, P.A.O.C. field director for Malawi, and coordinator for the Theological Education and Leadership Training Advisory Council (TELTAC) for the continent of Africa. He has thirty-five years of pastoral experience and has taught numerous courses at both the undergraduate and graduate level.