A Doubter's Guide to Jesus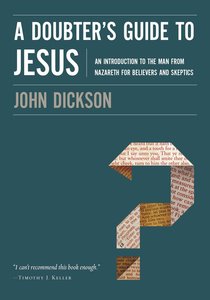 You May Also Be Interested In
About "A Doubter's Guide to Jesus"
A GUIDE FOR JESUS SKEPTICS: AN INTERVIEW WITH JOHN DICKSON
- Koorong


A Doubter's Guide to Jesus is an introduction to the major portraits of Jesus found in the earliest historical sources. Portraits because our best information points not to a tidy, monolithic Jesus, but to a complex, multi-layered and, at times, contradictory figure. While some might be troubled by this, fearing that plurality equals incomprehensibility or unreliability, others take it as an invitation to do some rearranging for themselves, trying to make Jesus neater, more systematic and digestible.
After two millennia of spiritual devotion and more than two centuries of modern critical research, we still cannot fit Jesus into a box. He is destined to stretch our imaginations, confront our beliefs, and challenge our lifestyles for many years to come.
In A Doubter's Guide to Jesus readers will find themselves both disturbed and intrigued by the images of Jesus found in the first sources.
- Publisher
Meet the Author
John Dickson
John Dickson (Ph.D., Macquarie University, Sydney) is one of Australia's best selling Christian authors. Much of his remarkable output focuses on the reliability of the New Testament and the relevance of the gospel to contemporary life. Recently, his documentary The Christ Files featured on Chanel 7.

His books range from academic studies to popular apologetics and youth issues and include Mission-Commitment in Ancient Judaism and in the Pauline Communities (JCB Mohr; WUNT 2/159); Hanging in There; A Sneaking Suspicion; Jesus: A Hell of a Life; Simply Christianity: Beyond Religion; Vital Signs and The Spectator's Guide to Jesus
This gifted communicator started his career as a singer/songwriter with rock band, In the Silence and hosted the national music TV show, Swordfish, for 2 years. Since then, he has gone on to gain an honours degree in Theology and a doctorate in ancient history. He holds the position of Honorary Associate in the Department of Ancient History, Macquarie University, Sydney. An ordained Anglican minister, John has spent the best part of a decade working as a local church minister.
Most recently he has produced Humilitas:A Lost Key to Life, Love, and Leadership (Zondervan, 2011); Life of JesusWho He Is and Why He Matters (Zondervan, 2010); The Best Kept Secret of Christian Mission: Promoting the Gospel with More Than Our Lips (Zondervan, 2010) ; Investigating Jesus: An Historian's Quest; Jesus: A Short Life; The Christ Files; and 666 and all That with Greg Clarke
Koorong - Editorial Review.
Table Of Contents
a Doubter's Guide To Jesus Is An Introduction To The Major Portraits Of Jesus Found In The Earliest Historical Sources. portraits Because Our Best Information Points Not To A Tidy, Monolithic Jesus, But To A Complex, Multi-layered And, At Times, Contradictory Figure. While Some Might Be Troubled By This, Fearing That Plurality Equals Incomprehensibility Or Unreliability, Others Take It As An Invitation To Do Some Rearranging For Themselves, Trying To Make Jesus Neater, More Systematic And Digestible.

after Two Millennia Of Spiritual Devotion And More Than Two Centuries Of Modern Critical Research, We Still Cannot Fit Jesus Into A Box. He Is Destined To Stretch Our Imaginations, Confront Our Beliefs, And Challenge Our Lifestyles For Many Years To Come.

in a Doubter's Guide To Jesus Readers Will Find Themselves Both Disturbed And Intrigued By The Images Of Jesus Found In The First Sources.
{{review.title}}
By {{review.author.name}},

{{review.reviewCreatedDate | date:'MMM dd yyyy'}}

{{reviewdescription}}
{{review.text}}
---