A Feild Guide to Spiritual Warefare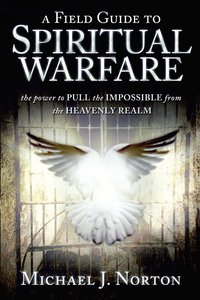 Michael Norton's A Field Guide for Spiritual Warfare is an highly engaging text, filled with vital counsel on cooperating with the Holy Spirit in taking the Mark 16 commission—sharing the Gospel, healing the sick, and casting out demons—to the streets. As Norton stresses and as his own ministry attests, the focus is not primarily on deliverance, but on the Gospel being preached; signs and wonders will naturally follow those who believe. A true equipping tool, A Field Guide advocates both the authority of the believer and a crucial dependence on the Holy Spirit, and provides a model for deliverance ministry operating in the darkest places, "making the impossible bow down to the name of Jesus!"
- Publisher
You May Also Be Interested In
About "A Feild Guide to Spiritual Warefare"
Michael Norton's A Field Guide for Spiritual Warfare is an highly engaging text, filled with vital counsel on cooperating with the Holy Spirit in taking the Mark 16 commission—sharing the Gospel, healing the sick, and casting out demons—to the streets. As Norton stresses and as his own ministry attests, the focus is not primarily on deliverance, but on the Gospel being preached; signs and wonders will naturally follow those who believe. A true equipping tool, A Field Guide advocates both the authority of the believer and a crucial dependence on the Holy Spirit, and provides a model for deliverance ministry operating in the darkest places, "making the impossible bow down to the name of Jesus!"
- Publisher
Meet the Author
Michael Norton
Michael Norton is the founder, and until 1995 the Director, of Directory of Social Change, the UK's leading agency providing information, training and support to voluntary organisations. In 1995, he founded the Centre for Innovation in Voluntary Action (CIVA) to promote innovation and new thinking on the role of charities.Michael Norton established Changemakers, which challenges young people to design and manage their own community projects in response to an issue or concern of importance to them. He is also the founder of YouthBank UK, which enables young people to make grants in their local communities.In 2002 he set up an international summer school for young activists: YOUNG PEOPLE Change the World! This has now become an annual event, planned and run entirely by young people, which brings together around 250 people from all over the world/He is the author of numerous books on fundraising and charitable status.
Table Of Contents
contents

Chapter 1 Against The Forces Of Evil In Heavenly Realms Chapter 2 In The Beginning Was Jesus Chapter 3 Authority In Christ Chapter 4 Exorcism And Deliverance Chapter 5 Listening In On Heaven's Will Chapter 6 Hauntings—evicting Demonic Spirits Chapter 7 The Miracle Of A Repenting Heart Chapter 8 Witchcraft And Voodoo Chapter 9 Nightmares And Things That Go Bump In The Night Chapter 10 Casting Out Demons Chapter 11 Generational Curses Chapter 12 Sexually Transmitted Demons Chapter 13 Prophetic Evangelism And Deliverance Prayer Ministry Chapter 14 Establishing A Beachhead: House Blessing Appendix A. Salvation Prayer Appendix B. Baptism Of The Holy Spirit Prayer Appendix C. Forgiveness Prayer Appendix D. Prayer For Breaking Generational Curses