A Girl After God's Own Heart Devotional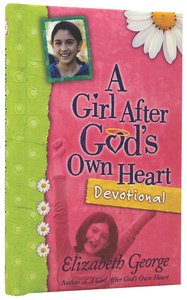 $14.99
$11.99
You Save: $3.00 (20%)
Hardback
The instant bestseller A Girl After God's Own Heart now has an exciting companion volume!

It's never too early to teach tween girls the value of having personal devotions alone with the Lord. And a great way to encourage that habit is with A Girl After God's Own Heart Devotional.

Every day is an incredible new adventure for girls in this age group. New experiences, new things to learn, new challenges, new friendships, new activities, and much more. At this crucial transitional stage in life, these devotions will help girls to...
- see God as their best friend and helper
- trust God in their times of need
- learn how to make the best kinds of choices
- get along better with family and friends
- handle their emotions and responsibilities.

A wonderful resource for helping girls to experience the joys and blessings of getting to know God.



- Publisher
You May Also Be Interested In
About "A Girl After God's Own Heart Devotional"
The instant bestseller A Girl After God's Own Heart now has an exciting companion volume!

It's never too early to teach tween girls the value of having personal devotions alone with the Lord. And a great way to encourage that habit is with A Girl After God's Own Heart Devotional.

Every day is an incredible new adventure for girls in this age group. New experiences, new things to learn, new challenges, new friendships, new activities, and much more. At this crucial transitional stage in life, these devotions will help girls to...
- see God as their best friend and helper
- trust God in their times of need
- learn how to make the best kinds of choices
- get along better with family and friends
- handle their emotions and responsibilities.

A wonderful resource for helping girls to experience the joys and blessings of getting to know God.


- Publisher


Meet the Author
Elizabeth George
Elizabeth George, whose books have sold more than 4.8 million copies, is the author of A Woman After Gods Own Heart (more than 930,000 copies sold) and Walking with the Women of the Bible. Shes also a popular speaker at Christian womens events. Elizabeth and her husband, Jim, are parents and grandparents, and have been active in ministry for more than 30 years.
Media