A Healing Touch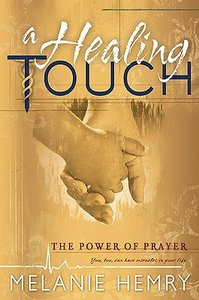 In A Healing Touch, Melanie Hemry relates many experiences of miracles as a result of prayer. Hemry learned to hear and recognize God's voice and shares how God healed a brain-dead judge, spoke to her in dreams of warning, and caused her to "happen" to be in the right place at the right time to save lives.This book will ignite and transform the way you pray. You will enter into a new dimension of faith, a deeper revelation of God's love, and a renewed understanding that your prayers can truly move the hand of God. You will not walk away from this book unchanged as you, too, experience the joy of receiving miraculous answers to your prayers.

- Publisher
You May Also Be Interested In
About "A Healing Touch"
In A Healing Touch, Melanie Hemry relates many experiences of miracles as a result of prayer. Hemry learned to hear and recognize God's voice and shares how God healed a brain-dead judge, spoke to her in dreams of warning, and caused her to "happen" to be in the right place at the right time to save lives.This book will ignite and transform the way you pray. You will enter into a new dimension of faith, a deeper revelation of God's love, and a renewed understanding that your prayers can truly move the hand of God. You will not walk away from this book unchanged as you, too, experience the joy of receiving miraculous answers to your prayers.
- Publisher


Meet the Author
Melanie Hemry
Melanie Hemry, a 1988 winner of the prestigious Guideposts Writing Contest, is a long time contributor to Guideposts magazine. A former coronary care nurse, Melanie traded in her stethoscope for a computer to become one of America's beloved story tellers. She has also authored Intensive Caring, a fast-paced book of true medical dramas. Melanie earned her bachelor degree from the University of Central Oklahoma, and her master's degree from Wagner Leadership Institute in Colorado Springs. She and her husband, Kenneth, reside in Edmond, Oklahoma, and have two daughters, Heather and Lauren.