A Life Observed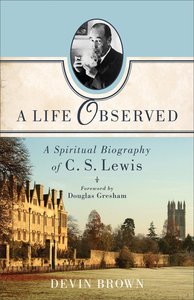 C. S. Lewis is one of the most influential Christian writers of our time. The Chronicles of Narnia has sold more than 100 million copies worldwide and all Lewis's works are estimated to sell 6 million copies annually. At the fiftieth anniversary of his death, Lewis expert Devin Brown brings the beloved author's story to life in a fresh, accessible, and moving biography through focusing on Lewis's spiritual journey.

Although it was clear from the start that Lewis would be a writer, it was not always clear he would become a Christian. Drawing on Lewis's autobiographical works, works by those who knew him personally, and his apologetic and fictional writing, this book tells the inspiring story of Lewis's journey from cynical atheist to joyous Christian and challenges readers to follow their own calling. The book allows Lewis to tell his own life story in a uniquely powerful manner while shedding light on his best-known works.

- Publisher
You May Also Be Interested In
About "A Life Observed"
C. S. Lewis is one of the most influential Christian writers of our time. The Chronicles of Narnia has sold more than 100 million copies worldwide and all Lewis's works are estimated to sell 6 million copies annually. At the fiftieth anniversary of his death, Lewis expert Devin Brown brings the beloved author's story to life in a fresh, accessible, and moving biography through focusing on Lewis's spiritual journey.

Although it was clear from the start that Lewis would be a writer, it was not always clear he would become a Christian. Drawing on Lewis's autobiographical works, works by those who knew him personally, and his apologetic and fictional writing, this book tells the inspiring story of Lewis's journey from cynical atheist to joyous Christian and challenges readers to follow their own calling. The book allows Lewis to tell his own life story in a uniquely powerful manner while shedding light on his best-known works.
- Publisher


Meet the Author
Devin Brown
Devin Brown (Ph.D., University of South Carolina) is a Lilly scholar and professor of English at Asbury College. A C. S. Lewis aficionado, Brown has been regularly writing, teaching, and lecturing on Lewis for more than ten years. He has been invited to write chapters for six books, including a major chapter on The Screwtape Letters for the 4-volume series C. S. Lewis: Life, Works, and Legacy released by Praeger Publishers.


Devin's own book Inside Narnia: A Guide to Exploring The Lion, the Witch and the Wardrobe was published by Baker in 2005 and is currently in its sixth printing. His second Narnia book, Inside Prince Caspian: A Guide to Exploring the Return to Narnia, was released in January 2008, in advance of the second film. He has signed a contract to write a third Narnia book, Inside the Voyage of the Dawn Treader, to come out in 2010 before the third film.
Koorong - Editorial Review.
Table Of Contents
contents
prologue: A Longing Nothing Can Satisfy
1. Infant And Child (1898-1908)
2. Schoolboy And Adolescent (1908-1913)
3. Young Man And University Student (1913-1925)
4. Oxford Don And Reluctant Convert (1925-1931)
5. Inkling And Author (1931-1950)
6. Husband, Widower, And Brother Once More (1950-1963)
epilogue: Home At Last