A Life That Says Welcome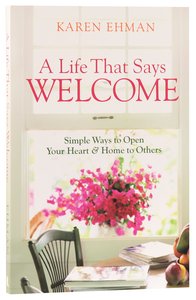 The thought of hosting a dinner party or even having a friend over for coffee is enough to give some women flashbacks of lopsided cakes or doomed casseroles from home economics class. But opening up your home to others doesn't have to be fancy or frightening or cost a fortune, says Karen Ehman. In A Life That Says Welcome, she offers a practical, painless (no crafting or cooking aptitude required) course on hospitality. It helps busy women open up their hearts in order to open up their homes. Full of tips, ideas, recipes, to-dos, and how-tos, A Life That Says Welcome shows readers that opening up their homes is less scary and less work than they might think.

- Publisher "Karen Ehman's book A Life That Says Welcome is full of practical wisdom and ideas that can make your life more enjoyable and your home a more loving place to be. She believes in opening her heart, and her book shows us many ways we can learn to do the same--not only to strangers (fairly easy), but also to family and friends (usually a bit more difficult). The arts of hospitality and of keeping a home are benefits you'll gain from her book. I heartily recommend it."--Jeff Campbell, author of Speed Cleaning, Clutter Control and Spring Cleaning"From recipes to centerpieces to creative cleaning, Karen shows you how to have "fun" as a family while learning to care for others."--Susan Alexander Yates, author of And Then I Had Teenagers"This book should be read by everyone who wants to sprinkle more joy in their life and home. Though I am no Betty Crocker, I feel inspired to grab my spatula and whip up some homemade hospitality for family and friends alike. Thank you Karen for giving us this inspirational book that should be on every woman's bookshelf!"--Lysa TerKeurst, author, speaker, president of Proverbs 31 Ministries"Karen's book offers a good background in hospitality and today's form of entertaining as well as excellent ideas on how to put theory into practice."--Emilie Barnes, suthor, speaker, Founder of More Hours in My Day"Karen has provided us with yet another gem! With her usual warm candor, she has opened her life to us, showing all of us how to easily apply hospitality in our every day lives. Everyone will be better for reading this book."--Jonni McCoy, Miserly Moms"Reading a book by Karen Ehman is like sitting down and sharing a cup of tea with a girlfriend. She's honest, practical, and always has a great sense of humor. If you've struggled to know how to extend hospitality in the midst of raising a family, Karen's practical strategies will help you open your heart and your home to whoever God sends your way!"--Jill Savage, mother of 5, Executive Director of Hearts at Home"Wouldn't it be fun to have Martha Stewart, Betty Crocker, and Shirley Dobson as your next-door-neighbors? Well, okay, maybe not. How about something even better--your very own 'mentor in a book!' Karen Ehman is all of those wonderful influences without the intimidation. If you've ever longed for someone to demonstrate what it means to truly make your house a home, then your (and my) prayers have been answered."--Lisa Whelchel, bestselling author of Creative Correction, The Facts of Life and Other Lessons My Father Taught Me and Taking Care of the 'Me' in Mommy

- Publisher
You May Also Be Interested In
About "A Life That Says Welcome"
The thought of hosting a dinner party or even having a friend over for coffee is enough to give some women flashbacks of lopsided cakes or doomed casseroles from home economics class. But opening up your home to others doesn't have to be fancy or frightening or cost a fortune, says Karen Ehman. In A Life That Says Welcome, she offers a practical, painless (no crafting or cooking aptitude required) course on hospitality. It helps busy women open up their hearts in order to open up their homes. Full of tips, ideas, recipes, to-dos, and how-tos, A Life That Says Welcome shows readers that opening up their homes is less scary and less work than they might think.
- Publisher

"Karen Ehman's book A Life That Says Welcome is full of practical wisdom and ideas that can make your life more enjoyable and your home a more loving place to be. She believes in opening her heart, and her book shows us many ways we can learn to do the same--not only to strangers (fairly easy), but also to family and friends (usually a bit more difficult). The arts of hospitality and of keeping a home are benefits you'll gain from her book. I heartily recommend it."--Jeff Campbell, author of Speed Cleaning, Clutter Control and Spring Cleaning"From recipes to centerpieces to creative cleaning, Karen shows you how to have "fun" as a family while learning to care for others."--Susan Alexander Yates, author of And Then I Had Teenagers"This book should be read by everyone who wants to sprinkle more joy in their life and home. Though I am no Betty Crocker, I feel inspired to grab my spatula and whip up some homemade hospitality for family and friends alike. Thank you Karen for giving us this inspirational book that should be on every woman's bookshelf!"--Lysa TerKeurst, author, speaker, president of Proverbs 31 Ministries"Karen's book offers a good background in hospitality and today's form of entertaining as well as excellent ideas on how to put theory into practice."--Emilie Barnes, suthor, speaker, Founder of More Hours in My Day"Karen has provided us with yet another gem! With her usual warm candor, she has opened her life to us, showing all of us how to easily apply hospitality in our every day lives. Everyone will be better for reading this book."--Jonni McCoy, Miserly Moms"Reading a book by Karen Ehman is like sitting down and sharing a cup of tea with a girlfriend. She's honest, practical, and always has a great sense of humor. If you've struggled to know how to extend hospitality in the midst of raising a family, Karen's practical strategies will help you open your heart and your home to whoever God sends your way!"--Jill Savage, mother of 5, Executive Director of Hearts at Home"Wouldn't it be fun to have Martha Stewart, Betty Crocker, and Shirley Dobson as your next-door-neighbors? Well, okay, maybe not. How about something even better--your very own 'mentor in a book!' Karen Ehman is all of those wonderful influences without the intimidation. If you've ever longed for someone to demonstrate what it means to truly make your house a home, then your (and my) prayers have been answered."--Lisa Whelchel, bestselling author of Creative Correction, The Facts of Life and Other Lessons My Father Taught Me and Taking Care of the 'Me' in Mommy
- Publisher


Meet the Author
Karen Ehman
Karen Ehman is a member of the Proverbs 31 Ministries national speaking team, and a workshop and keynote presenter for the Hearts at Home national conferences. Karen is the author of four women's books, including A Life That Says Welcome: Simple Ways to Open Your Heart and Home to Others and The Complete Guide to Getting and Staying Organized. She has been a guest on national television and radio programs, including The 700 Club, At Home Live, Engaging Women, The Harvest Show, Moody Midday Connection and Focus on the Family. Karen also is a writer for Focus on the Family's new magazine Thrivin
Customer Reviews For "A Life That Says Welcome"
Write Your Own Review
Refreshing and Practical
By Jacqui,

Jul 15 2015
The subtitle of this book is simple ways to open your heart and home to others. This was what I was looking for when I read this book and it delivered over and above what I was expecting.
Karen Ehman takes the fear out of sharing hospitality with others as we are encouraged to do in the bible. She begins with helping with our heart attitude and then gives really practical ways to have your home a welcome place for people to come to. I loved how she related to all the excuses we can have for not having people over yet gently showed how they really don't have to stop us. After working on our heart attitude the rest of the book is very practical as she shares cleaning ideas, easy recipes, decorating ideas and even how to be welcoming to people when you don't have a home to invite them to. This is a very useful book to have on your bookshelf so you can refer to it often.
{{review.title}}
By {{review.author.name}},

{{review.reviewCreatedDate | date:'MMM dd yyyy'}}

{{reviewdescription}}
{{review.text}}
---