A Long Obedience in the Same Direction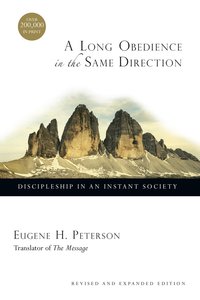 As a society, we are no less obsessed with the immediate than when Eugene Peterson first wrote this Christian classic. If anything, email and the Internet may have intensified our quest for the quick fix. But Peterson's time-tested prescription for discipleship remains the same--a long obedience in the same direction.Tucked away in the Hebrew Psalter, Peterson discovered "an old dog-eared songbook," the Songs of Ascents that were sung by pilgrims on their way up to worship in Jerusalem. In these songs (Psalms 120-134) Peterson finds encouragement for modern pilgrims as we learn to grow in worship, service, joy, work, happiness, humility, community and blessing.This 20th anniversary edition of A Long Obedience in the Same Direction features these Psalms in Peterson's widely acclaimed paraphrase, The Message. He also includes an epilogue in which he reflects on the themes of this book and his ministry during the twenty years since its original publication.

- Publisher
You May Also Be Interested In
About "A Long Obedience in the Same Direction"
As a society, we are no less obsessed with the immediate than when Eugene Peterson first wrote this Christian classic. If anything, email and the Internet may have intensified our quest for the quick fix. But Peterson's time-tested prescription for discipleship remains the same--a long obedience in the same direction.Tucked away in the Hebrew Psalter, Peterson discovered "an old dog-eared songbook," the Songs of Ascents that were sung by pilgrims on their way up to worship in Jerusalem. In these songs (Psalms 120-134) Peterson finds encouragement for modern pilgrims as we learn to grow in worship, service, joy, work, happiness, humility, community and blessing.This 20th anniversary edition of A Long Obedience in the Same Direction features these Psalms in Peterson's widely acclaimed paraphrase, The Message. He also includes an epilogue in which he reflects on the themes of this book and his ministry during the twenty years since its original publication.
- Publisher


Meet the Author
Eugene H Peterson
Dr. Eugene H. Peterson is a pastor, scholar, author, and poet. He has written nearly thirty influential books including, Praying with the Psalms; Praying with Jesus; Reversed Thunder; Leap Over a Wall; Run with the Horses and Answering God , but he is best known for The Message: The Bible in Contemporary Language a contemporary paraphrase of the Bible.
Eugene Peterson was educated at Seattle Pacific University, New York Theological Seminary, and Johns Hopkins University, and in 1962, Peterson became founding pastor of Christ Our King Presbyterian Church in Bel Air, Maryland, where he served for 29 years before retiring. He is Professor Emeritus of Spiritual Theology at Regent College in Vancouver, British Columbia retiring in 2002.
His most recent publications have been the Spiritual Theology Series including Eat this Book; Christ Dances in a Thousand Places; The Word Made Flesh; The Jesus Way and the fifth volume Practising Resurrection.
Koorong -Editorial Review.
Table Of Contents
As A Society, We Are No Less Obsessed With The Immediate Than When Eugene Peterson First Wrote This Christian Classic. If Anything, Email And The Internet May Have Intensified Our Quest For The Quick Fix. But Peterson's Time-tested Prescription For Discipleship Remains The Same--a Long Obedience In The Same Direction.tucked Away In The Hebrew Psalter, Peterson Discovered "an Old Dog-eared Songbook," The Songs Of Ascents That Were Sung By Pilgrims On Their Way Up To Worship In Jerusalem. In These Songs (psalms 120-134) Peterson Finds Encouragement For Modern Pilgrims As We Learn To Grow In Worship, Service, Joy, Work, Happiness, Humility, Community And Blessing.this 20th Anniversary Edition Of a Long Obedience In The Same Direction Features These Psalms In Peterson's Widely Acclaimed Paraphrase, the Message. He Also Includes An Epilogue In Which He Reflects On The Themes Of This Book And His Ministry During The Twenty Years Since Its Original Publication.

1. Discipleship: "what Makes You Think You Can Race Against Horses?"

2. Repentance: "i'm Doomed To Live In Meshech"

3. Providence: "god Guards You From Every Evil"

4. Worship: "let's Go To The House Of God!"

5. Service: "like Servants . . . We're Watching & Waiting"

6. Help: "oh, Blessed Be God! He Didn't Go Off & Leave Us!"

7. Security: "god Encircles His People"

8. Joy: "we Laughed, We Sang"

9. Work: "if God Doesn't Build The House"

10. Happiness: "enjoy The Blessing! Revel In The Goodness!"

11. Perseverance: "they Never Could Keep Me Down!"

12. Hope: "i Pray To God . . . And Wait For What He'll Say & Do"

13. Humility: "i've Kept My Feet On The Ground"

14. Obedience: "how He Promised God"

15. Community: "like Costly Anointing Oil Flowing Down Head & Beard"

16. Blessing: "lift Your Praising Hands"

A Long Obedience: Epilogue

Notes