A Love Like Ours (#03 in Porter Family Novel Series)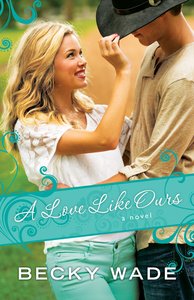 :Becky Wade Is the New Name to Know in Contemporary Romance

Deeply scarred from a day he wishes he could forget during his military service, Thoroughbred trainer Jake Porter has given up on love. He struggles against symptoms of PTSD, lives a solitary life, and avoids relationships.

When Lyndie James, Jake's childhood best friend, returns to their hometown of
Holley, Texas, Jake cautiously hires her to exercise his Thoroughbreds. Lyndie is tender-hearted, fiercely determined, and afraid of nothing, just like she was as a child. Jake trusts her with his prized racehorse, Silver Leaf, then battles his hopes for his horse against his increasing fear for Lyndie's safety.

Though Jake and Lyndie have grown into very different adults, the bond that existed during their childhood still ties them together. Against Jake's will, Lyndie's sparkling, optimistic personality begins to tear down the walls he's built around his heart. A glimmer of the hope he'd thought he'd lost returns. Will Jake ever be able to love Lyndie like she deserves, or is his heart too shattered to mend?

- Publisher
You May Also Be Interested In
About "A Love Like Ours (#03 in Porter Family Novel Series)"
:Becky Wade Is the New Name to Know in Contemporary Romance

Deeply scarred from a day he wishes he could forget during his military service, Thoroughbred trainer Jake Porter has given up on love. He struggles against symptoms of PTSD, lives a solitary life, and avoids relationships.

When Lyndie James, Jake's childhood best friend, returns to their hometown of
Holley, Texas, Jake cautiously hires her to exercise his Thoroughbreds. Lyndie is tender-hearted, fiercely determined, and afraid of nothing, just like she was as a child. Jake trusts her with his prized racehorse, Silver Leaf, then battles his hopes for his horse against his increasing fear for Lyndie's safety.

Though Jake and Lyndie have grown into very different adults, the bond that existed during their childhood still ties them together. Against Jake's will, Lyndie's sparkling, optimistic personality begins to tear down the walls he's built around his heart. A glimmer of the hope he'd thought he'd lost returns. Will Jake ever be able to love Lyndie like she deserves, or is his heart too shattered to mend?
- Publisher


Meet the Author
Becky Wade
Becky Wade is a graduate of Baylor University. As a newlywed, she lived for three years in a home overlooking the turquoise waters of the Caribbean, as well as in Australia, before returning to the States. A mom of three young children, Becky and her family now live in Dallas, Texas. Visit her website at www.beckywade.com. A
Customer Reviews For "A Love Like Ours (#03 in Porter Family Novel Series)"
Write Your Own Review
Third in the series
By Meredith Resce,

Jan 01 2017
I've been enjoying this series, and though this one was similarly written to the first two, I found that the author had decided to include a second romance story in as a side plot. Personally, I wish she had left this story for another novel, or novella, as it tended to drag the story away from the tension that was being set up in the main plot. 
The theme of PTSD was woven throughout with the main character, Jake Porter. The story was quite detailed in the way it portrayed this disorder, and just how much it can debilitate sufferers in their personal lives. I'm off to read #4 in the series now.
---
An enjoyable read
By Marija,

Oct 29 2016
'A Love Like Ours' is the perfect read for a lazy afternoon curled up with a book. A relatable, likeable protagonist? Check! An impossibly good looking, 'Mr Darcy-esque' hero? Check! A heartwarming story with plenty of 'aw' moments? Check! Lots of genuinely funny, laugh-out-loud scenes? Check! And a perfect ending that will leave you with a sappy smile on your face? Check!

Lyndie and her family have admirable faith and trust in God, even through challenging trials. I particularly love how Lyndie is constantly holding up in prayer Jake and her relationship with him. 

While this is the third book in a series, it is a complete story in itself, and can be read as a stand alone novel. 
---
Touching Story
By Amanda,

Feb 11 2016
This was a touching story. I love Becky Wade's writing. It is real and her characters are too. This book deals with a damaged and hurting man who eventually is drawn out (but in a realistic way) by an old childhood friend - a strong and godly woman. There were several elements to the story and nothing was simple (as in real life). I really enjoyed this moving and healing story. 
---
Emotionally Investing
By Johanna,

Sep 16 2015
Becky caught my attention within the first chapter. I had no doubts I was going to enjoy and love this book! The character development was brilliant. I truly felt like Jake was struggling with PTSD because it encapsulated everything he was. Expect to get emotionally attached and invested. Lyndie has such a beautiful personality and to read about all her struggles, especially with her sister, is quite sad. Her friend is also quite the character. I loved her immediately. 
The thing I like about this series is the consistency of the Porter family dynamic. Even though two of them are married and have kids, I still felt connected to their story. Haven't heard much about Dru before, but boy, does she have spunk. I loved it!! Her flair definitely matches that of her brothers. I hope the next book is about her because I can't wait to see who will sweep her off her feet! 
Just like all of Becky's other Porter books, this one lacks no romance! Not at all! Luke and Lyndie's chemistry is stronger than ever. 12 years apart has just strengthened their attraction. Need a romance fix, then this is too good to just let pass. 

---
Sweet
By Hannah,

Jul 19 2015
with a serious chronic disease affecting everyone in the story. That said, it was a beautiful story. There were times when it felt a little preachy but even that fitted the characters' personalities and since it was important lessons about faith, God's goodness, man's failures and hope, it was definitely forgivable! And, of course, the romance was really sweet.

The only thing that annoyed me was the two different women's stories being told alongside each other (Lindee and her friend). It wouldn't have been all that difficult to skip the friend's scenes altogether and not miss any of the story. I'm assuming that character was being set up for another book, but it was still a little annoying. 

Still, it was a sweet story with captivating characters and one I'd definitely read again.   

{{review.title}}
By {{review.author.name}},

{{review.reviewCreatedDate | date:'MMM dd yyyy'}}

{{reviewdescription}}
{{review.text}}
---
Other Titles In The "Porter Family Novel Series" Series View All