A Love Surrendered (#03 in Winds Of Change (Lessman) Series)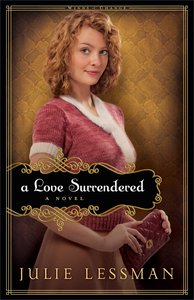 Orphaned in Iowa, Annie Kennedy moves to Boston to stay with her spinster aunt. She longs for romance to fill the void left by her parents' death. But when she falls hard for Steven O'Connor, the man who broke an engagement to her sister, Annie is worried. Will he break her heart too when he discovers who she really is?

With heart-pounding romance, intense family drama, and emotional twists and turns, A Love Surrendered is everything Julie Lessman's many fans have been waiting for.

- Publisher
You May Also Be Interested In
About "A Love Surrendered (#03 in Winds Of Change (Lessman) Series)"
Orphaned in Iowa, Annie Kennedy moves to Boston to stay with her spinster aunt. She longs for romance to fill the void left by her parents' death. But when she falls hard for Steven O'Connor, the man who broke an engagement to her sister, Annie is worried. Will he break her heart too when he discovers who she really is?

With heart-pounding romance, intense family drama, and emotional twists and turns, A Love Surrendered is everything Julie Lessman's many fans have been waiting for.
- Publisher


Meet the Author
Julie Lessman
Julie Lessman is a new and exciting author with a bright future ahead of her. Even as a debut novelist, Lessman has already garnered writing awards, including ten Romance Writers of America awards, and developed a fan base
Customer Reviews For "A Love Surrendered (#03 in Winds Of Change (Lessman) Series)"
Write Your Own Review
Bitter-sweet
By Bec C,

Jul 17 2015
   Julie Lessman's third and final book in the 'Winds of Change' series was a bitter-sweet read. It is the last book of the three part series 'Winds of Change', however it follows on from the three part series 'The Daughters of Boston'. After reading the previous five books about the O'Connor family and seeing the characters come to life by Lessman's writing skill, it was with sadness that I read 'A Love Surrendered'.
  'A Love Surrendered' is about Steven's story. Steven is the youngest son of Patrick and Marcy O'Connor. Throughout the earlier books we have seen Steven grow from being a sweet boy with a love for his family to a college boy who has become engulfed with the lifestyle of the roaring 20's and a girl named Maggie. 
 A Love Surrendered is Steven's story of love, loyalty and honesty. Who can Steven trust if he doesn't even trust himself?

 
---
Surrender to Love, Hope Faith
By EMarieH,

May 13 2013
Annie Kennedy moves to Boston after the death of her father. Feeling empty inside and abandoned by God, Annie forsakes her faith and her usual 'good girlness' and falls into the company of the wrong crowd. But it's because of her new ways that she meets Steven O'Connor, a man who had also fallen away but is, very slowly, finding his way back to what is right.
 
In the very last book of the O'Connor Saga and the Winds of Change series, A Love Surrendered by Julie Lessman, we learn what it means to surrender our hearts to God and read a story about finding a love that's pure and faithful.
 
Annie Kennedy never thought she'd meet Steven O'Connor, her sister's ex-fiance, while backed up against a wall by two scoundrels on a dark street. While he does save her life, Annie is not only embarrassed but she soon finds that Steven O'Connor treats her like she is a child who doesn't know what she's doing. He keeps insisting that she's a good girl, that she shouldn't hang around with the people she now calls her friends. Maybe he's right, maybe she should do as he says, but living with her innocent little sister Glory and an aunt who is strict and somewhat cold, Annie can't seem to stop seeing the people Steven insists are bad for her.
 
Steven has made some huge mistakes in his life. But he's getting himself back on track...sort of. While he's not as wild as he used to be with the drinking and the women, he still can't seem to get away from the friends who still are. But then he meets Annie and he sees in her the definition of innocence and purity. So why is she hanging out with the crowd he used to go with? The people who can only lead her to trouble and destroy that sweetness that he finds so attractive? It's girls like her that he ruins. So, while he wants to help her, get her back to where she belongs and away from the people and the places that will eventually hurt her, he also knows he has to keep his distance. Or he may end up hurting her worse than any of those people she calls her friends would.
 
Julie Lessman, you've done it again!! I absolutely adored Steven and Annie's story! Beautifully written, filled with family drama, passionate romance and overwhelming heartbreak, A Love Surrendered almost beat A Heart Revealed on my Favorite-Julie-Lessman-Novel-List. 

In the beginning Annie's faith had suffered because of the loss of her father, but when she gets it back it guides her through her journey with her frustrating aunt, her struggling surrender to God and her feelings for Steven. Julie Lessman shows us once again that God is always at the center of every epic love story. I loved how Annie's faith helped Steven open his eyes and his heart to God. Julie Lessman knows how to weave a story of faith and love, intertwining the two with such clarity and skill that they become one and the same. There cannot be love without faith, there cannot be faith without love. Both Annie and Steven discover that a love surrendered to God is the greatest love there is.
 
This book made me laugh out loud, grin from ear to ear during the beautifully written, heartwarming love scenes and had me in tears at the very end. I can't believe it's time to say goodbye to the O'Connor family! Julie Lessman brought these characters to life, she made me love them. It's like saying goodbye to my own family. I'm going to miss them so, so much!!
---
Hoped for more
By Rel of Relz Reviewz,

Nov 19 2012
The final instalment in the Winds of Change series has everything readers have come to love about a Julie Lessman novel ~ drama, angst, passion, love, Irish tempers, feisty woman, and stubborn men! Steven's poor choices have been highlighted in previous books so it was enjoyable to see him challenged to become a man determined to do what was right rather than what suited his own desires. Annie is a sweet girl, a little vulnerable as she ventures into Boston's nightlife before taking responsibility for her actions and renewing her faith. When Steven and Annie's paths cross, both wrestle with attraction, secrets, and dreams of a future. Julie's stories are always entertaining and never boring but I found myself frustrated by the deceptions perpetuated by a number of the characters upon  their spouses, once again. This is a familiar thread in both of Julie's series and I would have preferred a little more originality in the storyline. While I'm not always a fan of tying up all the loose ends, it was charming to see the O'Connors all experience their happily ever afters. Julie has certainly created a family that will stay in readers hearts and minds for a long time to come. In the meantime, I look forward to some meeting more memorable Lessman characters when her new series launches with Love at Any Cost, set in San Francisco during the Gilded Age.
---
A lovely ending to a highly entertaining series
By Helen Wakefield,

Oct 17 2012
Five of the six O'Connor children are happily married.  So what about Steven? A former frat boy who partied with the best of them, Steven is now a hard nosed prohibition agent. And after breaking things off with his first love, Maggie, three years later he's still staying away from women.

And then Annie shows up.  She's got her head in the clouds thinking about getting her first kiss.  But when she hits the Boston social scene, she isn't exactly prepared for the attention she draws.  Turns out, neither is Steven.  He makes it his mission to keep guys only out for one thing away from Annie - including himself.

Annie is a sweet heroine - but not so sweet that she's going to take any nonsense from the dashing Steven O'Connor.  In the previous books, Steven remained somewhat of a mystery so I really enjoyed getting to know him in this book.  He isn't quite as arrogant as his sister's husbands - which I liked - but he's still got that Irish temper.  At times he was such a typical sleazy jerk that I wanted to slap him silly.  But Annie did that for me :)

A Love Surrendered was a little softer in tone than most of Julie's other books.  I felt this was appropriate with the series being wrapped up and everyone's stories coming to an end, and by no means did this book disappoint.  It certainly wasn't devoid of drama and gasp-inducing plot twists - and of course, plenty of Julie's signature passion!

A Love Surrendered left me with the warm and fuzzies and a longing to be an O'Connor, even if just for one day!  It was a bittersweet end - I was so happy for the happily-ever-afters for all the family, but also so sad to be saying goodbye to them.  At the end I could barely read from the tears spilling from my eyes. A totally wonderful way to end what has been a highly entertaining and endearing series.
{{review.title}}
By {{review.author.name}},

{{review.reviewCreatedDate | date:'MMM dd yyyy'}}

{{reviewdescription}}
{{review.text}}
---
Other Titles In The "Winds Of Change (Lessman)" Series