A Love Woven True (#02 in Lights Of Lowell Series)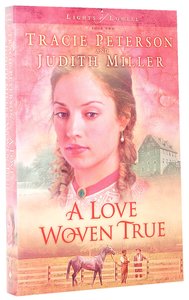 $

34.99

$

27.99
You Save: $7.00 (20%)
Paperback
With memories of her loveless, arranged marriage behind her, Jasmine Houston, widowed with a young son, longs to establish her life in the bustling textile town of Lowell, Massachusetts. But news of her mother's failing health lures Jasmine back to her family's plantation in the South.

Her journey makes an unexpected turn when a deathbed promise prompts Jasmine to secure the freedom of a slave family with the help of her brother-in-law, Nolan. With a joyous return to her horse farm in Lowell and a deepening knowledge of the love in her heart, Jasmine's future appears bright.

But as her family splinters over the slavery issue, Jasmine's unfaltering commitment to her abolitionist beliefs will be tested as she faces the prospect of losing that which is dearest to her.

With skill and emotional depth, bestselling authors Tracie Peterson and Judith Miller weave a heart-tugging drama of faith, courage, and love.


- Publisher Jasmine Houston, a widow with a young son, agrees to harbor former slaves at her horse farm outside of Lowell, even though her father, a plantation owner, supports slavery. When a boardinghouse keeper unwittingly becomes involved with a traveling peddler who sells something infinitely more valuable than shoes, Jasmine is devastated to discover that her son and the former slaves have been kidnapped. Jasmine??'s determination to free them threatens to undo her family as well as the ties that bind the burgeoning textile industry to the southern cotton growers. Book two in the bestselling Lights of Lowell.

- Publisher Peterson and Miller weave together romance, intrigue, and fascinating historyin a 19th-century mill town.

- Publisher
You May Also Be Interested In
About "A Love Woven True (#02 in Lights Of Lowell Series)"
With memories of her loveless, arranged marriage behind her, Jasmine Houston, widowed with a young son, longs to establish her life in the bustling textile town of Lowell, Massachusetts. But news of her mother's failing health lures Jasmine back to her family's plantation in the South.

Her journey makes an unexpected turn when a deathbed promise prompts Jasmine to secure the freedom of a slave family with the help of her brother-in-law, Nolan. With a joyous return to her horse farm in Lowell and a deepening knowledge of the love in her heart, Jasmine's future appears bright.

But as her family splinters over the slavery issue, Jasmine's unfaltering commitment to her abolitionist beliefs will be tested as she faces the prospect of losing that which is dearest to her.

With skill and emotional depth, bestselling authors Tracie Peterson and Judith Miller weave a heart-tugging drama of faith, courage, and love.

- Publisher

Jasmine Houston, a widow with a young son, agrees to harbor former slaves at her horse farm outside of Lowell, even though her father, a plantation owner, supports slavery. When a boardinghouse keeper unwittingly becomes involved with a traveling peddler who sells something infinitely more valuable than shoes, Jasmine is devastated to discover that her son and the former slaves have been kidnapped. Jasmine??'s determination to free them threatens to undo her family as well as the ties that bind the burgeoning textile industry to the southern cotton growers. Book two in the bestselling Lights of Lowell.
- Publisher

Peterson and Miller weave together romance, intrigue, and fascinating historyin a 19th-century mill town.
- Publisher


Meet the Authors
Tracie Peterson
Tracie Peterson is a full-time author who has written or co-written over 60 novels in both historical and contemporary genres which regularly appear on the bestseller lists, including the WESTWARD CHRONICLES, the YUKON QUEST and the SHANNON SAGA series. Tracie also teaches writing workshops at a variety of conferences on subjects including inspirational romance and historical research. Tracie and her family live in Montana. - Publisher.
Judith Miller
Judith Miller is an award-winning author whose avid research and love for history are reflected in her novels, two of which have placed in the CBA top ten lists. In addition to her writing, Judy is a certified legal assistant. Judy and her husband make their home in Topeka, Kansas.
Other Titles In The "Lights Of Lowell" Series