A Man Called Blessed (Unabridged, 10 CDS) (#02 in Caleb Audio Book Series)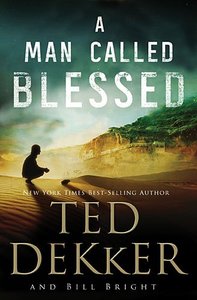 :One man holds the key to locating the Ark of the Covenant ? but he?s hidden deep in the desert and no one has seen him since he was a boy. In this explosive sequel to Blessed Child, Jewish soldier-turned-archaeologist Rebecca Soloman leads a team deep into the Ethiopian desert to find the one man who may know the final resting place of the Ark of the Covenant. Such a discovery would bring hope back to her people. Her search brings excitement and danger ? including unexpected love and a discovery far more powerful than even the holy artifact. Meanwhile, Islamic fundamentalists dispatch Ismael, their most accomplished assassin, to pursue Rebecca and the man she?s searching for. These men fear that the Ark?s discovery will compel Israel to rebuild Solomon?s temple ? on the very site of their holy mosque in Jerusalem. But the man they seek is no ordinary man. His name is Caleb, and he too is on a mission ? to find again the love he embraced as a child and to share that love with the world.

- Publisher
Also Available In
You May Also Be Interested In
About "A Man Called Blessed (Unabridged, 10 CDS) (#02 in Caleb Audio Book Series)"
:One man holds the key to locating the Ark of the Covenant ? but he?s hidden deep in the desert and no one has seen him since he was a boy. In this explosive sequel to Blessed Child, Jewish soldier-turned-archaeologist Rebecca Soloman leads a team deep into the Ethiopian desert to find the one man who may know the final resting place of the Ark of the Covenant. Such a discovery would bring hope back to her people. Her search brings excitement and danger ? including unexpected love and a discovery far more powerful than even the holy artifact. Meanwhile, Islamic fundamentalists dispatch Ismael, their most accomplished assassin, to pursue Rebecca and the man she?s searching for. These men fear that the Ark?s discovery will compel Israel to rebuild Solomon?s temple ? on the very site of their holy mosque in Jerusalem. But the man they seek is no ordinary man. His name is Caleb, and he too is on a mission ? to find again the love he embraced as a child and to share that love with the world.
- Publisher


Meet the Authors
Ted Dekker
Ted Dekker is known for novels that combine adrenaline-laced stories with unexpected plot twists, unforgettable characters, and incredible confrontations between good and evil. The son of missionaries, he grew up in the jungles of Indonesia. He returned to the United States to attend Evangel College, graduating with a religion & philosophy major. After several years in corporate marketing, in 1997 he began writing books like Heaven's Wager now he has written numerous books including bestsellers Skin, In the Blink of an Eye, Saint and Thr3e. Ted lives in Nashville, TN with his wife LeeAnn, and has four grown children.
Bill Bright
Bill Bright was the founder and president of Campus Crusade for Christ International, the world's largest Christian ministry. In 1956 he wrote the The Four Spiritual Laws which has been printed in 200 languages and distributed to 2.5 billion people. In 1979 he commissioned the Jesus film which has been viewed by more than 5.1 billion people. In 1996 Bright was presented with the prestigious Templeton Prize for Progress in Religion and donated all of his prize money to causes promoting the spiritual benefits of fasting and prayer. He was the author of more than 50 books, including Come Help Change the World, and The Coming Revival. Bright died in 2003 and is survived by his wife Vonette, who assisted him in founding Campus Crusade for Christ; a sister Florence Skinner; a brother Forest Bright; his son Zachary, who is pastor of Divine Savior Presbyterian Church in California; son Brad, who is on staff with Campus Crusade; and four grandchildren.- Publisher.
Customer Reviews For "A Man Called Blessed (Unabridged, 10 CDS) (#02 in Caleb Audio Book Series)"
Write Your Own Review
A suspenseful story hiding nuggets of spiritual wisdom
By Iola,

Nov 19 2013
A Man Called Blessed is the second in the Caleb Books series by Ted Dekker and Bill Bright. Dekker is famous for his suspense, and that came through in the novel. Bill Bright is famous for his non-fiction books on spiritual maturity, and that came through as well. What didn't come through so well, for me, were likeable characters I could believe in and relate to. We didn't see much of Caleb in the beginning, and it seemed as though he had a personality transplant when he arrived in the desert. It didn't quite ring true. Equally, Rebecca seemed to morph from a military assassin into a stereotypical brash American tourist when she left the monastery. Neither transformation rang true to the characters as they had been established in this book. 

And I had issues with the plot. Some aspects were incomprehensible Others felt contrived. I also had issues with the writing, particularly the overuse of adverbs and exclamation marks, and the developing relationship between Rebecca and Caleb. I continually felt I was being told how they felt about each other-I never saw it. 

On a more practical level, it was interesting to gain insight into the minds of the modern Jew and Muslim, especially Palestinian Muslims. There are serious problems in the Middle East, and A Man Called Blessed illustrated them well. 

Thanks to Thomas Nelson and Booksneeze for providing a free ebook for review. 
{{review.title}}
By {{review.author.name}},

{{review.reviewCreatedDate | date:'MMM dd yyyy'}}

{{reviewdescription}}
{{review.text}}
---
Other Titles In The "Caleb Audio Book Series" Series