A Man of Faith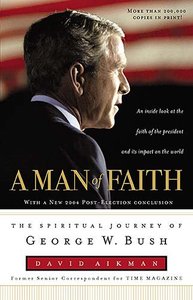 More than any other contemporary world leader, George W. Bush is A Man of Faith! Former Time magazine correspondent David Aikman closely examines Bush's spiritual journey---a life-changing conversation with Billy Graham at Kennebunkport, his triumph over alcoholism to forge a new destiny, how events following 9/11 cast him as "God's chosen man" for these critical days, the war in Iraq, and more. Features a new post-election conclusion.

- Publisher More than any other world leader in recent times, George W. Bush is a man of faith x2026;a conservative Christian who has brought the power of prayer and the search for God's will into the Oval Office. His faith has proven to be a bedrock of strength and resolve during two of the most tumultuous years in our nation's history. According to Newsweek magazine, "This presidency is the most resolutely faith based in modern times. An enterprise founded, supported and guided by trust in the temporal and spiritual power of God." David Aikman, skilled journalist and former senior correspondent for TIME magazine, pens this dramatic and gripping account of Bush's journey to faith. Based on interviews and behind-the-scenes stories, you'll learn how x2026; His life changed after a conversation with Billy Graham on the beach at Kennebunkport He walked away from alcoholism toward a new destiny The events following 9/11 caused many to view him as God's chosen man for this critical time in history His

- Publisher
You May Also Be Interested In
About "A Man of Faith"
More than any other contemporary world leader, George W. Bush is A Man of Faith! Former Time magazine correspondent David Aikman closely examines Bush's spiritual journey---a life-changing conversation with Billy Graham at Kennebunkport, his triumph over alcoholism to forge a new destiny, how events following 9/11 cast him as "God's chosen man" for these critical days, the war in Iraq, and more. Features a new post-election conclusion.
- Publisher

More than any other world leader in recent times, George W. Bush is a man of faith x2026;a conservative Christian who has brought the power of prayer and the search for God's will into the Oval Office. His faith has proven to be a bedrock of strength and resolve during two of the most tumultuous years in our nation's history. According to Newsweek magazine, "This presidency is the most resolutely faith based in modern times. An enterprise founded, supported and guided by trust in the temporal and spiritual power of God." David Aikman, skilled journalist and former senior correspondent for TIME magazine, pens this dramatic and gripping account of Bush's journey to faith. Based on interviews and behind-the-scenes stories, you'll learn how x2026; His life changed after a conversation with Billy Graham on the beach at Kennebunkport He walked away from alcoholism toward a new destiny The events following 9/11 caused many to view him as God's chosen man for this critical time in history His
- Publisher


Meet the Author
David Aikman
David Aikman is a former Time magazine chief foreign correspondent who covered foreign affairs for more than 20 yrs. He is now a full time writer and has authored the novel When the Almond Tree Blossoms and a recent book On the Ground in the Middle-East. He resides with his family in Burke, Virginia.
Koorong -Editorial Review.