A Manifesto For Theological Interpretation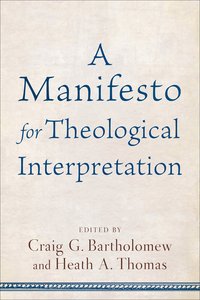 :Recent decades have witnessed a renaissance of theological interpretation. Craig Bartholomew, coauthor of the bestselling The Drama of Scripture, and Heath Thomas bring together a team of specialists to articulate a multifaceted vision for returning rigorous biblical interpretation to the context of the church. Developed by the internationally recognized Scripture and Hermeneutics Seminar, this book is designed to bring clarity and unity to the enterprise of theological interpretation. It positively integrates multiple approaches to interpreting the Bible, combining academic rigor with pastoral sensitivity for professors, students, and church leaders.

- Publisher
You May Also Be Interested In
About "A Manifesto For Theological Interpretation"
:Recent decades have witnessed a renaissance of theological interpretation. Craig Bartholomew, coauthor of the bestselling The Drama of Scripture, and Heath Thomas bring together a team of specialists to articulate a multifaceted vision for returning rigorous biblical interpretation to the context of the church. Developed by the internationally recognized Scripture and Hermeneutics Seminar, this book is designed to bring clarity and unity to the enterprise of theological interpretation. It positively integrates multiple approaches to interpreting the Bible, combining academic rigor with pastoral sensitivity for professors, students, and church leaders.
- Publisher


Meet the Authors
Craig Bartholomew
Craig G. Bartholomew (Ph.D., University of Bristol) is H. Evan Runner Chair in Philosophy at Redeemer University College, Ancaster, Ontario, Canada.
He is the author of Reading Ecclesiastes: Old Testament Exegesis and Hermeneutical Theory; Ecclesiastes (Baker Commentary on the Old Testament Wisdom and Psalms series); Where Mortals Dwell: A Christian View of Place for Today
He is also co-author of The Drama of Scripture and Living at the Crossroads: Introduction to Christian Worldview with Michael W. Goheen. He has also edited In the Fields of the Lord: A Calvin Seerveld Reader and co-edited Christ and Consumerism: A Critical Analysis of the Spirit of the Age. He is the series editor for the Scripture and Hermeneutics Series (8 volumes).
Table Of Contents
:contents
preface
craig G. Bartholomew And Heath A. Thomas
a Manifesto For Theological Interpretation
1. The History And Reemergence Of Theological Interpretation
angus Paddison
2. Doctrine Of Scripture And Theological Interpretation
michael W. Goheen And Michael D. Williams
3. The Ecclesia As Primary Context For The Reception Of The Bible
robby Holt And Aubrey Spears
4. Theological Interpretation And Historical Criticism
murray Rae
5. The Role Of Hermeneutics And Philosophy In Theological Interpretation
william P. Olhausen
6. The Canon And Theological Interpretation
stephen Dempster
7. Biblical Theology And Theological Interpretation
david J. H. Beldman And Jonathan Swales
8. Mission And Theological Interpretation
michael W. Goheen And Christopher J. H. Wright
9. The Telos (goal) Of Theological Interpretation
heath A. Thomas
10. A Framework For Theological Interpretation
denis Farkasfalvy
11. Theological Commentary
mark Gignilliat And Jonathan Pennington
12. Theological Interpretation For All Of Life
craig G. Bartholomew And Matthew Y. Emerson