A Matrix of Meanings (Engaging Culture Series)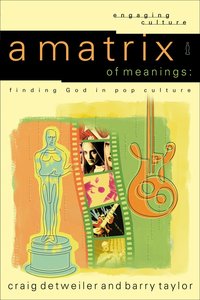 Ross and Rachel had a baby, Britney and Justin broke up, and Time magazine asked if Bono could save the world. From the glittering tinsel of Hollywood to the advertising slogan you can't get out of your head, we are surrounded by popular culture. In A Matrix of Meanings Craig Detweiler and Barry Taylor analyze aspects of popular culture and ask, What are they doing? What do they represent? and What do they say about the world in which we live? Rather than deciding whether Bono deserves our admiration, the authors examine the phenomenon of celebrity idolization. Instead of deciding whether Nike's "Just do it" campaign is morally questionable, they ask what its success reflects about our society.
A Matrix of Meanings is a hip, entertaining guide to the maze of popular culture. Plentiful photos, artwork, and humorous sidebars make for delightful reading. Readers who distrust popular culture as well as those who love it will find useful insight into developing a Christian worldview in a secular culture.

- Publisher
You May Also Be Interested In
About "A Matrix of Meanings (Engaging Culture Series)"
Ross and Rachel had a baby, Britney and Justin broke up, and Time magazine asked if Bono could save the world. From the glittering tinsel of Hollywood to the advertising slogan you can't get out of your head, we are surrounded by popular culture. In A Matrix of Meanings Craig Detweiler and Barry Taylor analyze aspects of popular culture and ask, What are they doing? What do they represent? and What do they say about the world in which we live? Rather than deciding whether Bono deserves our admiration, the authors examine the phenomenon of celebrity idolization. Instead of deciding whether Nike's "Just do it" campaign is morally questionable, they ask what its success reflects about our society.
A Matrix of Meanings is a hip, entertaining guide to the maze of popular culture. Plentiful photos, artwork, and humorous sidebars make for delightful reading. Readers who distrust popular culture as well as those who love it will find useful insight into developing a Christian worldview in a secular culture.
- Publisher


Meet the Authors
Craig Detweiler
Craig Detweiler is Associate Professor of Communication at Pepperdine University. He is the editor of "Halos and Avatars: Playing Video Games with God"; the author of "Into the Dark: Seeing the Sacred in the Top Films of the 21st Century"; and coauthor (with Barry Taylor) of "A Matrix of Meanings: Finding God in Pop Culture".
Barry Taylor
Barry Taylor (PhD, Fuller Seminary) is artist in residence for the Brehm Center and an adjunct professor at Fuller Seminary, where he teaches a series of spiritually innovative classes on music, film, and contemporary theology. In addition, he is an associate rector at All Saints Episcopal Church in Beverly Hills. He has co-authored two books, A Matrix of Meanings: Finding God in Popular Culture with Craig Detweiler and A Heretic's Guide to Eternity.
Other Titles In The "Engaging Culture" Series View All