A Mom's Prayers For Her Son: Praying For Every Part of His Life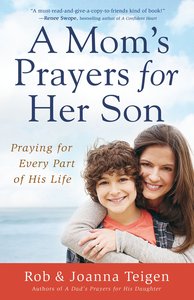 When a mother looks into the eyes of her son for the first time, her heart is filled with love--and questions. How do I raise a boy? What struggles will he go through? What kind of a man will he grow up to be? She wants to pray for her son, but may not know just what to pray for.

Now the couple who brought you A Dad's Prayers for His Daughter turns to a mother's unique relationship with her son. They assure Mom that even if she isn't always sure what kind of support her son needs, God always knows. Providing specific prayers moms can use, along with stories from other moms about how God has answered their prayers for their sons, Rob and Joanna Teigen give women a strong foundation to build a lifelong habit of prayer for their sons. They also explain a little more about boys and what they need to learn growing up, including character, courage, self-control, forgiveness, and more, so a mom can pray for every area of her son's life.

- Publisher
You May Also Be Interested In
About "A Mom's Prayers For Her Son: Praying For Every Part of His Life"
When a mother looks into the eyes of her son for the first time, her heart is filled with love--and questions. How do I raise a boy? What struggles will he go through? What kind of a man will he grow up to be? She wants to pray for her son, but may not know just what to pray for.

Now the couple who brought you A Dad's Prayers for His Daughter turns to a mother's unique relationship with her son. They assure Mom that even if she isn't always sure what kind of support her son needs, God always knows. Providing specific prayers moms can use, along with stories from other moms about how God has answered their prayers for their sons, Rob and Joanna Teigen give women a strong foundation to build a lifelong habit of prayer for their sons. They also explain a little more about boys and what they need to learn growing up, including character, courage, self-control, forgiveness, and more, so a mom can pray for every area of her son's life.
- Publisher


Meet the Authors
Rob Teigen
Rob Elliott has been a publishing professional for more than fifteen years and lives in West Michigan, where in his spare time he enjoys laughing out loud with his wife and four children.
Joanna Teigen
Joanna Teigen is the homeschooling mom of their teenage son and three younger daughters. The Teigens enjoy church, foster parenting, books, music, and laughter. They live in West Michigan.