A Most Peculiar Circumstance (#02 in Ladies Of Distinction Series)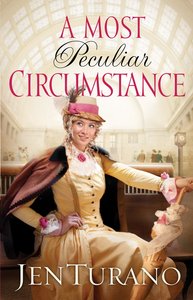 Delightful Blend of Love and Laughter
in Turano's Sophomore Novel

Miss Arabella Beckett has one driving passion: to help the downtrodden women of America. Naturally, she supports the women's suffrage movement and eagerly attends rallies and lectures across the country. On her travels, she makes a simple offer of assistance to a young woman in need that goes sadly awry and lands both ladies in more trouble than they can manage. An independent sort, Arabella is loath to admit she needs help and certainly doesn't need help from an arrogant, narrow-minded knight in shining armor.

Mr. Theodore Wilder, private investigator extraordinaire, is on a mission. A mission that began as a favor to his good friend Hamilton Beckett, but swiftly evolved into a merry chase across the country. By the time he finally tracks down Hamilton's sister, Arabella, he is in a less than pleasant mood. When the lady turns out to have radical ideas and a fiercely independent streak, he soon finds himself at his wit's end.

When they return home to New York, circumstances force their paths to continue to cross, but the most peculiar feelings growing between them certainly can't be love. When the trouble Arabella had accidentally stirred up seems to have followed her to New York and threatens her very life, the unlikely couple must face the possibility that they might have landed in the most peculiar circumstance of all: love.

- Publisher
You May Also Be Interested In
About "A Most Peculiar Circumstance (#02 in Ladies Of Distinction Series)"
Delightful Blend of Love and Laughter
in Turano's Sophomore Novel

Miss Arabella Beckett has one driving passion: to help the downtrodden women of America. Naturally, she supports the women's suffrage movement and eagerly attends rallies and lectures across the country. On her travels, she makes a simple offer of assistance to a young woman in need that goes sadly awry and lands both ladies in more trouble than they can manage. An independent sort, Arabella is loath to admit she needs help and certainly doesn't need help from an arrogant, narrow-minded knight in shining armor.

Mr. Theodore Wilder, private investigator extraordinaire, is on a mission. A mission that began as a favor to his good friend Hamilton Beckett, but swiftly evolved into a merry chase across the country. By the time he finally tracks down Hamilton's sister, Arabella, he is in a less than pleasant mood. When the lady turns out to have radical ideas and a fiercely independent streak, he soon finds himself at his wit's end.

When they return home to New York, circumstances force their paths to continue to cross, but the most peculiar feelings growing between them certainly can't be love. When the trouble Arabella had accidentally stirred up seems to have followed her to New York and threatens her very life, the unlikely couple must face the possibility that they might have landed in the most peculiar circumstance of all: love.
- Publisher


Meet the Author
Jen Turano
Jen Turano is a graduate of the University of Akron with a degree in Clothing and Textiles. She pursued a career in management for nine years before switching to full-time motherhood after the birth of her son. When she's not writing, Jen can be found watching her teenage son participate in various activities, taking long walks with her husband and dog, socializing with friends, or delving into a good book. She lives in suburban Denver, Colorado. Learn more at www.jenturano.com. A
Customer Reviews For "A Most Peculiar Circumstance (#02 in Ladies Of Distinction Series)"
Write Your Own Review
Disappointing
By Ibu Guru,

Apr 01 2017
The majority of this book was wacky and easy to read.  Unfortunately, near the end a psycho gets too many pages to rave and that, I felt, was unnecessary and spoiled the book.  I will not be rereading it.
---
Hilarious
By Johanna,

Jun 08 2016
Jen Turano definitely has a sense of humour and it is SO cleverly weaved throughout this story, making it refreshing, entertaining and enchanting!!!! The opening chapter had me in fits of laughter as Arabella talks to herself as a means of comfort. Then of course, it all became even more exciting when Theodore entered the picture, causing Arabella to have met her match! Sparks went flying, but of course they only realise this when Arabella's troubles catch up with her. Their unconfessed love, to each other and themselves, whilst their actions betrayed their words, made it even more heart-warming.

Turano will keep you on your toes by the unveiling of twists. One thing escalated to another. And the humour - don't even get me started on that one. It was both witty and enchanting!! I LOVED it. My only warning will be that once you start laughing, you may not be able to stop, even when you've moved on by two pages. Don't miss out :)

---
Well written
By Hannah,

Aug 25 2014
After enjoying the first book in this series, I was intrigued to read this, the second - and thrilled to find it even better than the first. I love the way this author brings to life such delightful characters which tickle one's sense of humour. They clash, they say the wrong things and occasionally they end up in jail (much to their high society mothers' horrors) but somehow that only serves to bring them closer together. I love the way this story not only touches on the upper class of society but also the hearts and lives of those barely surviving and what it really means to love them as God does. Definitely be reading this book again!
---
Entertaining reading
By Jacqui,

Aug 02 2014
This is the second book in the series and having loved the first one I was eager to see which characters Jen Turano would feature in this one. I really enjoyed it. Again Jen's gift of engaging you in the lives of her characters shines out. This story introduces you to Arabella who is the sister of one of the main characters in the first novel. Although there is a predictable outcome between her and Theodore, the private investigator who you meet in the first book, the many twists and turns that occur on the way make it a novel you don't want to put down. Although really just a fun story to read, the things Arabella learns about her faith and how she has been living her life adds a lesson for the readers to learn from and be challenged by as well.
---
Excellent Sequel (but read A Change of Fortune First)
By Iola,

Jun 28 2013
While I enjoyed the story, and particularly the historical, suspense and faith elements, parts of it were difficult to follow because I hadn't read the earlier book, and I wasn't entirely convinced by the romance between Arabella and Theodore. Thanks to Bethany House and NetGalley for providing a free ebook for review. A Most Peculiar Circumstance has an excellent beginning, as Miss Arabella Beckett finds herself in jail for the first time in Gilman, Illinois, in November 1880 (I particularly liked the 'first time' line-it implied that jail was a surprise, not perhaps not an unexpected one, given her involvement in the women's suffrage movement and her beliefs around the rights of women (not to mention her habit of travelling without a companion or chaperone). 

Arabella prays that God will help her out of this predicament, and almost immediately is visited by a Mr Theodore Wilder. Mr Wilder introduces himself as a friend of her brothers and a private investigator, who has been asked to locate her and return her home to New York, which he does, but the pair argue constantly, even though the reader can see that they share many of the same beliefs. 

The early scenes were excellent, but things become a bit more confusing when Theodore and Arabella return to New York and we are suddenly introduced to an entire cast of characters that it seemed like I was expected to know-parents, siblings, friends and parents of friends. While I enjoyed the story, and particularly the historical, suspense and faith elements, parts of it were difficult to follow because I hadn't read the earlier book. Thanks to Bethany House and NetGalley for providing a free ebook for review. 
{{review.title}}
By {{review.author.name}},

{{review.reviewCreatedDate | date:'MMM dd yyyy'}}

{{reviewdescription}}
{{review.text}}
---
Other Titles In The "Ladies Of Distinction" Series View All